I first stumbled upon Kaaron Warren via her story "Bone Dog", which she had submitted to my partner Cat Sparks for possible inclusion in the second Agog! anthology, Agog! Terrific Tales (Agog! Press, 2003). It was a perverse, nasty tale that begins with these words:
In the porn industry, models don't usually get to choose the venue for photo shoots. I guess 'Fat Slits' has to be a bit more flexible than other magazines; some of us can't get too far from home.
The story was as outlandish as this opening suggests: beautifully written, intelligent and mind-numbing -- and clearly the work of some sort of crack-addled goth chick. Cat accepted it at once. When I finally met Kaaron, probably at the launch of the book, I wasn't prepared for the suburban mom she turned out to be. Of course in time this image was revealed to be a façade, hiding a bent imagination made all the more effectively grotesque by her tight grasp on the ordinary details -- and perversities -- of life. These days she's had many stories published, has won awards and has produced an excellent collection, The Glass Woman (Prime Books, 2008). She's still a great mum, too, as well as a smart, generous and open-hearted friend and a lovely person all round.
I was excited -- and a little jealous -- when I heard that she'd sold not one, but three novels to the new, high-profile UK imprint Angry Robot. Horror fiction is about to receive a massive shot in the arm.
Undead Backbrain: Thanks for talking to us, Kaaron. Your first novel, Slights, is about to be published by Angry Robot Press -- and from the cover and the accompanying blurbs, it looks to be a horror novel that will do the genre proud. Without giving too much away, what's it about?

Kaaron Warren: Thanks for talking to me! Slights is about a woman who, at 18, accidentally kills her mother in a car accident. Stephanie (Steve) experiences near death as a result of her injuries, but she sees no shining light, hears no loving voices. Instead, she finds herself in a cold dark room, surrounded by people she barely knows. The only thing she recognises in them is anger; she sees that they are anxious for her to die so they can devour her. She visits this room a number of times throughout the novel as she attempts suicide periodically. She is unpopular, disliked, unable to fit in to society. She gradually recognises the people in the room; each and every one is a person she slighted in some way. Steve becomes obsessed with death. Her brother, a successful politician, has no time for her, and her police officer father died years earlier, a hero. She is obsessed with her own death because in the afterlife, at least, she is the centre of attention. And she becomes obsessed with the deaths of others. She digs up her backyard with the intention of planting night-blooming jasmine, a comfort flower. Instead, she finds odd things; a cracked glass cufflink, an old belt, a dented lunchbox, a shoe heel, many more odd, small items. These lead her to understand more about her past, and about why she is driven to do the things she does.

UB: To what extent does it fit comfortably into the horror genre as generally understood by the masses?

KW: It does have a serial killer, but the murders are only a small part of the story. The times we spend in the dark room, the room of her afterlife, are supposed to be terrifying and disgusting. It scared me to write those bits. Some of the imagery came from nightmare flashes. A lot of the horror comes from her life, which is full of loneliness. It's her take on the world, and the way she treats people around her. So it isn't a traditional horror story, I don't think.

UB: Your work can generally be characterised as leaning toward the disturbingly uncomfortable and made more so by seeming to arise from an emotionally personal place that is both ordinary and bizarre. Does that make sense to you?

KW: It does make sense. I tend to write in worlds which are just a side-step from ours. That way, anything is possible. I like the freedom of story-telling that gives me. I like to write from the inside, not as an observer or a questioner. Those characters have a role in many stories, but to me they can lessen the emotional nature of story-telling because they are always questioning, which means they are not understanding.
I don't know what it is that makes the 'disturbingly uncomfortable' something I want to write about. It's instinctive. These are the stories which present themselves to me. These are the stories I notice in the news and when people are talking.
It's been that way for a long time. There was a story in the old magazine Australasian Post, which my uncle used to buy. I've never been able to track the story down. It was about a brother who killed his young sister by loosening the screws on her swing, and pushing her really hard. Awful, awful story which totally fascinates me still. The writer had given us all the details of how she landed...he didn't hold back. It still makes me feel ill thinking about it. That's the feeling I go for in my stories!

UB: Do you think that achieving that sort of feeling in fiction has any sort of inherent value for readers? Presumably you do, but in what does the value lie?

KW: That's an interesting question. Do I add value by making people feel bad/disturbed/scared? I add value to the story, because the more you feel, the more the story works, I reckon. If you have a sense of how a place smells, how something tastes, how you would feel if this happened to you, then you are in the story.
As far as the reader benefiting from this, I think they do in that it means they are engaging with the story. They won't be changed by it, but for the time of reading they are transported to that other place we often look for in fiction. The place outside our own reality. Sometimes it's a place which makes us feel better about our own existence when we return.
In my reading the books I get the most out of are the ones I have to work for. The ones which draw me in, make me feel. These ones are harder to read, but they are far more rewarding. They're the ones which stay with you long afterwards. They don't just occupy your brain for the few hours of reading.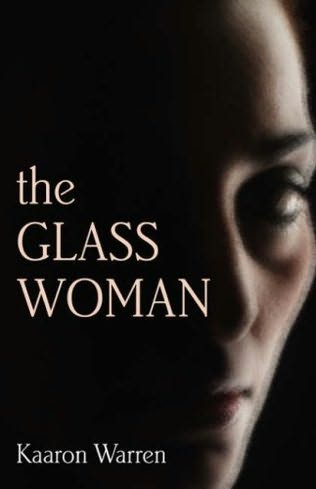 UB: As you see it, who or what has inspired your writing, thematically and stylistically?

KW: I take inspiration from everywhere! Singing Karaoke the other night, as I am wont to do, I chose "Hotel California". As I reached the end, I thought, "This song is a perfect short story, and ends in exactly the right place." I've listened to that song over a lot of years, and I've always known this. It ends in exactly the right place. "You can check out any time you like, but you can never leave." I love that. Leaves a lot to the imagination, but puts you on the path to where they want you to go. What happens next is up to the listener. To the reader. This inspires me to end my stories in the right place!
Thematically, I'm inspired by the news, by the stories I hear, by the things I see. You never know when an idea will pop up. I recently read Magog by Andrew Sinclair. Written in 1972, it's a story of London, really, written in a vicious tone I loved. Throughout, I made notes, inspired by a sentence or a comment he made. Things like; he talked about three hundred dogs dumped on a bare rock in the Bosphorus. How you can see this island, with 299 skeletons chewed, one showing no signs of being eaten at all? This is something I could build a story around.
Stylistically, I'm inspired by writers like Raymond Carver, whose sparse fiction is so evocative it breathes. By William Golding, who writes diverse, deep fiction in his own clear voice. By Harlan Ellison, for his wild imagination he turns into real stories.
Really, I'm inspired by everything I read, good and bad. The bad helps me avoid the bad, the good spurs me to better work.

UB: Earlier short stories of yours do reflect aspects of Australian suburban life in Canberra (and places like it). Has living in Fiji affected your writing over the past year or so?

KW: It has. As you would expect it to! Unless you write in a vacuum, you have to let outside influences affect you.
I don't think I've changed the sorts of stories I'm telling. That's one reason why I haven't written an 'insider' story about Fiji. The locals tell different stories, in different ways.
For example, when I was asking around for stories for Ellen Datlow and Nick Mamatas' "Haunted Legends" anthology, which is based on urban legends, I came across very different attitudes to haunting. Most people here believe absolutely in spirits, and the spirits mostly have a name. It's an uncle, or an auntie; it's someone you know. They are cautious of these spirits, but it's not the unknown horror we feel when reading a ghost story.
So if I wanted to write a creepy ghost story, it had to be from the point of view of an outsider. There's also an acceptance of the supernatural, which means a lack of curiosity about it. That curiousity is often what drives a story, isn't it?
I've set stories in Fiji inspired by the great mounds of rotting cars along the side of the road. Also by the huge trees with massive, flat based foliage which the locals say are haunted. I'm planning a 'cursed village' story, which again I think will be written by an outsider. The thing is, the people of that village, and all the locals who talk about it, accept the curse as fact. Which is an interesting way to write a story, but not so dramatic.
I haven't written a cannibal story yet, but I have written one about the ghostly chiefs who sit in a circle with bowed heads to show their disapproval. And another about the vampire dogs I've read about in the Fiji Times. And my novel, Walking the Tree, was helped along, setting-wise, by living on an island.

UB: What influences -- Fijian or otherwise -- lie behind Slights?

KW: The idea for Slights came to me when I was thinking about the religions which have different hells for different sins. The Hare Krsnas believe that adulterers will drown in a sea of semen, alcoholics will be forced to drink molten lead and other such appropriate punishments. I was around 10 when I first saw the pictures in a Hare Krsna text book, depicting these places, and the images always stayed with me.
I started thinking about the different hells people might create for themselves. And the character of Steve came to me, as a fractious, lonely person who slighted those around her often.
Building her character came in a lot of ways. She symbolises all the loneliness I've ever seen in my life. All I've ever felt. So I collected examples of this, and I imagined how she would act in situations other people find simple but she finds difficult.
The descriptions of the dark room she goes to in her near-death experiences came mostly from tapping into the darkest corners of my imagination. Of listening to my dreams and nightmares and letting imagery run riot.

UB: What else has Kaaron Warren got coming up, writing-wise? I hope you've been working on that sequel to the sequel to the sequel of Anaconda!

KW: As you know, Rob, I live very close by the place where the boat used in Anacondas: Hunt for the Blood Orchid [the sequel to Anaconda] is kept! I'm still planning a writing weekend there. I imagine giant snakes will feature in some way or other!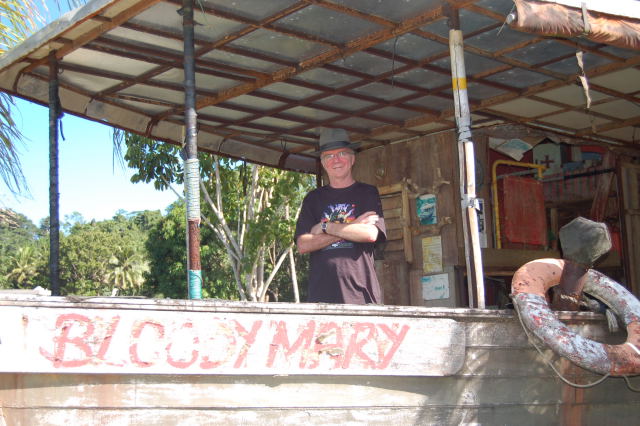 Interviewer Rob Hood on the Anacondas boat during an holiday in Fiji, where we experienced
Kaaron's generosity first hand (that is, we sponged off her)
Meanwhile, I've got a story coming up in Haunted Legends, as mentioned above. I managed to find a Fijian urban legend after all, but it's a very standard one across the world.
I've got a reprint in Dead Souls, from Morrigan Books. "The Blue Stream" is my second published story, and I still get comments on it. I've got two more novels coming out through Angry Robot. Mistification and Walking the Tree.
I'm working on a story about a man named for a vanished village, another about a laughing cult, a longer one about the goddess Ishtar, and I'm getting to work on my fourth novel, tentatively titled "The Mother Archives". So pretty busy.

UB: You certainly are! It's good to hear. I think there's no such thing as too many stories from Kaaron Warren. But tell me, what is your view of the horror genre at this point in its history?

KW: I think horror is broadening out. It reaches a wider audience through non-genre novels with horror elements. This, I hope, will soften the broader community up a little so they're ready for some of our stuff!

UB: I'll ask a question for all the aspiring writers out there: What advice would you give up-and-coming writers in the horror genre, both in terms of writing itself and getting their work published?

KW: I don't have anything very original to say here! As far as the writing part of it goes; read as much as you can within the genre and outside of it as well. Read the newspaper, read magazines, talk to people you meet. Be observant, be interested in everything and curious about all around you. Add layers of meaning to your work by adding details only you have seen. Make the work your own. Get the first draft down on paper without thinking about how it will sound, or what a reader will think. Take notes all the time, keep an eye out for ideas all the time. Be driven.
As far as getting published; the internet is wonderful for this. Read blogs of publishers, editors and writers you admire. Read the blogs of people who keep lists of upcoming markets. Read Ralan.com and Duotrope to find out who's looking for stories. Make sure your story is as close to perfect as it can be, check the guidelines to ensure you've got them right. Find the right market for your story and send it off. Google the editor before you do to see if they have any pet hates.

UB: Finally, Kaaron, is there a question you've always wanted an interviewer to ask you, but they never have? If so, now's your chance to use me as a ventriloqust's dummy and ask it! (You have to answer it, of course.)

KW: "How did it feel to make your first million dollars from your writing, Kaaron?"

"It felt bloody marvellous, thanks for asking, Rob. Not as good as the first ten million, though."

UB: Thanks for the time you've put into this interview, Kaaron. It's great to see Angry Robot publishing so intelligently in the horror genre. That's not a common thing in mainstream publishing. Good luck with Slights. I for one will be eagerly awaiting its appearance.

KW: Thanks, Rob. Hope to see you at the launch in one part of the world or another!
Kaaron Warren's award-winning short fiction has appeared in Year's Best Horror and Fantasy, Fantasy Magazine, Paper Cities and many other places in Australia, Europe and the US. She is an Australian currently based in Fiji.
Her short story "A Positive" has been made into a short film called "Patience", close to completion, and two of her stories were part of a series of short, disturbing plays in February 2009.
She is currently working on a novella about the goddess Ishtar, and a novel about the washerwoman in history. She has stories in Ellen Datlow's Poe anthology and also her Haunted Legends anthology.
Her first novel, Slights, will be published by Angry Robot Books, followed by two more, Mistification and Walking the Tree.
In the lead-up to the publication of her first novel, I spoke to Kaaron Warren about her novels, her attitudes to horror and writing and sundry other issues.
You can access the nearest thing she has to an official website here.