Over the years I've written about a large number of independent, low-budget exploitation flicks, and have been extremely impressed when, amid the mediocrity and failed ambition, there appears a real gem, a film that stands up well under fire, despite the limitations imposed by lack of funds and access to quality technical expertise. Surprisingly there have been quite a few of them — made almost singlehandedly, with minimal budget, by individuals driven by enthusiasm and sheer talent — that remain in my mind as superlative , even when held against the best the mainstream has to offer. One such is The Horseman (Aust-2008; dir. Steven Kastrissios), a powerful and deeply moving revenge thriller, technically excellent and beautifully acted. You can read my review and an interview with the director here. It's out on DVD/Blu-ray these days, and if you haven't done so, you should check it out.
More often, though, successful indie films work by being simply entertaining, making up for what they lack in slick production values or first-rate acting by the sheer enthusiasm and genre engagement of their creators. Sometimes, despite the lack of studio backing, they manage to draw upon talented technical crew — friends, industry acquaintances willing to work for little or no money just for the satisfaction of doing what they love, out-of-work but effective actors, FX artists who value the old, hands-on techniques but rarely get a chance to use them. While watching such films, you can be willingly blinded to flaws and glitches simply by the glare of their energy and commitment.
One aspect I don't think I've ever touched on before is soundtrack music. Over the next few weeks I'll introduce you to three soundtracks, music gathered or created by the makers of the films themselves. They are all available on CD and are worth your attention.
Part 1: Crustacean: Songs & Music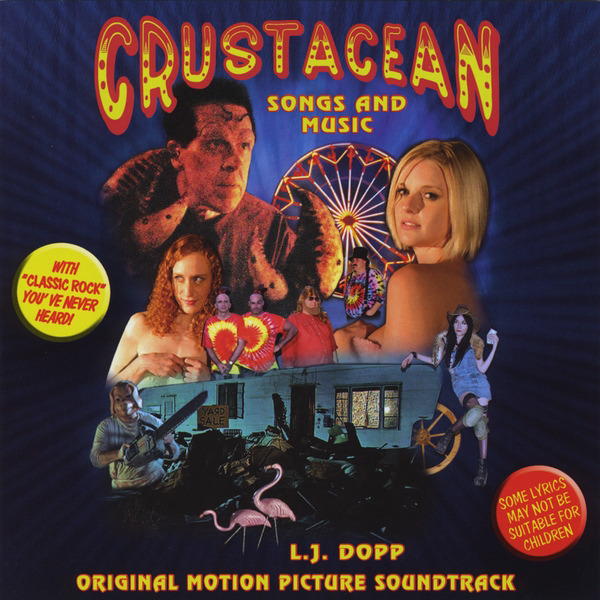 Crustacean (US-2010; dir. L.J. Dopp — see Backbrain review) is a great example of an indie exploitation film that really hits the mark. It's got everything — sideshow carnival with freaks, backwater township with an inbred population, nudity, gore, comedy, bad language, slapstick humour, beautiful women (sometimes naked)… you get the idea.
What surprised me was the attendant soundtrack, which is written and performed by the director, L.J. Dopp, and sung by members of the cast as well as Dopp himself. Even though the film isn't a musical as such, the songs are relevant to its setting and general ambiance, occasionally relating to the characters (for example, the titular song), even though it doesn't follow the movie's narrative in a direct way. The music — which largely parodies R&B styles — is complemented by some hilarious lyrics. Warning: often offensively funny. Among my favourites are:
"Lemur's Holler": sung by Maxine Gillespie, this is an ode to a redneck backwater community and includes all the stereotypes implied by that description:
"There ain't no law and they eat meat raw,
Down in Lemur's Holler,
And if you've made it through third grade
Then there you'd be a scholar.
Chorus:
If you like your sister and want to be her mister,
When folks find it hard to swaller,
Come on down to Lemur's Holler."
"Trailer Park Queen": sung by L.J. Dopp, "Trailer Park Queen" is a bogan love-song to another favourite stereotype:
"She won't win no blue-ribbon prize,
It's hard to look in both of her eyes
(at the same time, 'cause one of 'em kinda drifts)
My trailer park queen … she's so mean to me."
"You Matter To Me": sung by Angela Berliner (version 1) and Peter Atkins (version 2), this is another love song. No obvious jokes, but I find it oddly funny. It is dedicated to The Beatles:
"You matter to me, like wings matter to doves.
You matter to me, like wings matter to doves… oh, yeah.
'Cause doves without wings can't fly very high,
You matter to me, like wings matter to doves.
Chorus:
Doves need wings, and squirrels need trees,
And girls need boys between their knees,
And you, you matter to me, you matter to me …."
"Dungeon of My Heart": sung by Maxine Gillespie.
"I don't wanna let you go, but I know I cause you pain.
I don't wanna let you go, but I'm down to my last ball and chain.
I slip into the night, and my dogs will hunt you down,
I slip into the night one more time…"
There's more, of course, all with the same ironic, non-PC humour, all played well by Dopp, including the title carnival-freak titular anthem itself:
The full play list is:
Carnival Moon (2:51)
Lemur's Holler (2:14)
You Matter to Me 2 (2:44)
Trailer Park Queen (4:01)
Even Though (2:32)
Goth Blues (2:05)
Crustacean (3:22)
You Matter to Me (3:03)
Dungeon of My Heart (4:09
Lemur's Holler Instrumental (2:19)
Dark Side of the Honeymoon (3:46)
Bob Dylan, Bob Dylan (0:29)
Roadkill Blues (4:07)
Trailer Queen Instrumental (4:02)
You can get the album from CrustaceanTheMovie.com or from the usual sources, such as Amazon.
Next up: Part 2: Hot Rod Girls Save the World (coming soon)