Actually, it's not very new, and even if you could find a copy, it probably wouldn't be what you expect. This one is from 1921 and I've so far been unable to hunt down much information on it. The following intriguing poster came to me via early film aficionado Michael Organ.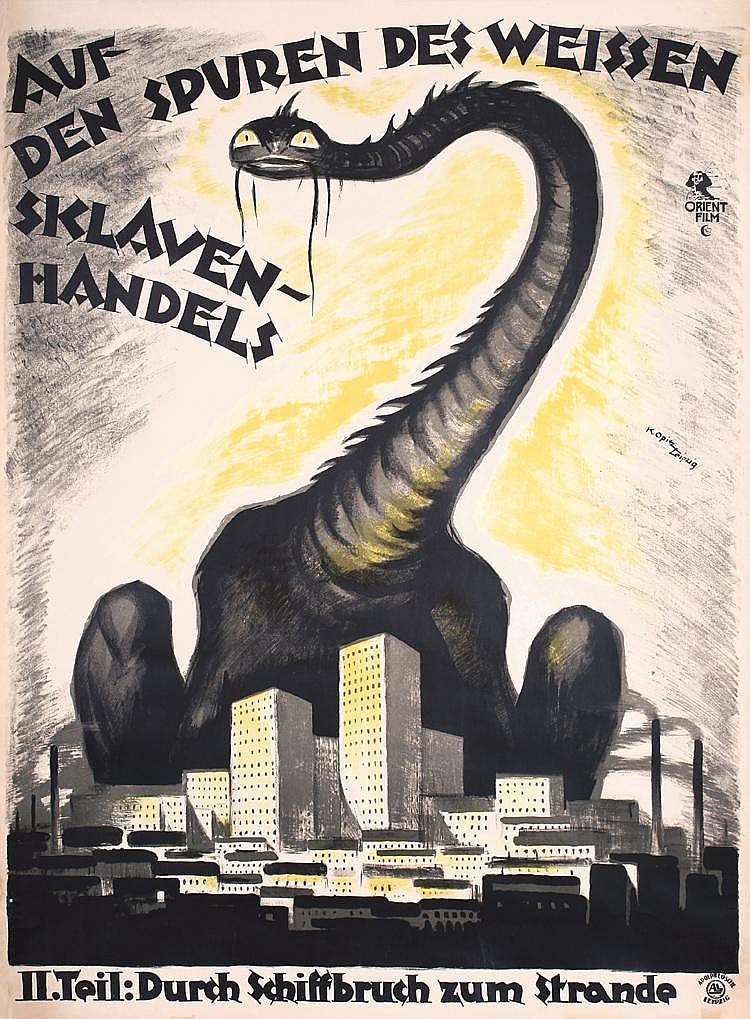 The title Auf den Spuren des weissen Sklavenhandels. II. Teil Durch Schiffbruch zum Strande translates as "On the Trail of White Slave Traders, Part 2: The Stranded Shipwreck". It is a German film from 1922 [according to KinoTV] and was directed by Edmund Linke. The website KinoTV, which references its source as Der Film #19, 1922 (Kritik), claims that the film was also written by Linke and stars Herbert Hübner, Kadja Lana, Anna Perra, Robert Pirk and Fritz Reiff. That seems to be the extent of available information, though the "Part 2" in the subtitle suggests that it is part of a serial or series.
Filmportal references a film called Auf den Spuren des weissen Sklavenhandels. I Teil (1921) by Edmund Linke, which is presumably the precursor. Its production company is given as Orient-Film, Linke & Co. (Leipzig) and the producer as Oskar Linke. It does not list a Part 2.
Referring to the poster, Michael Organ commented to me: "It is very much German Expressionism, so the monster probably relates to the evil of the slave trade, rather than actually being a monster/dragon as in Lang's Nibelungen (1924). The image is very cool, though."
It is indeed. If anyone out there has more information on it, let us know.