Here's an interesting oddity: as part of a museum exhibition running from July 10 to October 8 at Tokyo's Museum of Contemporary Art titled Hideaki Anno's Special Effects Museum, Anno is working with Hayao Miyazaki's Studio Ghibli to make a short live-action daikaiju film — Kyōshinhei Tokyo ni Arawaru [lit. Giant God Warrior Appears In Tokyo].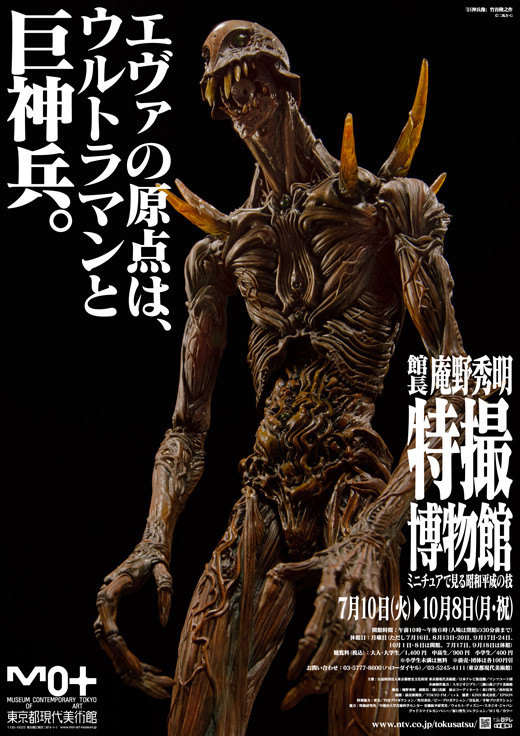 The film will have quite a nostalgic quality to it as it means that Hideaki Anno (famous as the director of Neon Genesis Evangelion) and Hayao Miyazaki (one of the world's greatest animation auteurs and founding director of Studio Ghibli) will work together on the film, with Miyazaki doing design work on the titular kaiju. The pair once worked together on  Nausicaä of the Valley of the Wind [aka Kaze no tani no Naushika], which Miyazaki wrote and directed from his own manga and on which Anno was the head animator.
Nausicaä had its own fair share of giant monsters, all of which were manifestations of the violated ecological system. This includes Giant God Warriors, which Anno apparently used as an inspiration for the "angels" of Evangelion.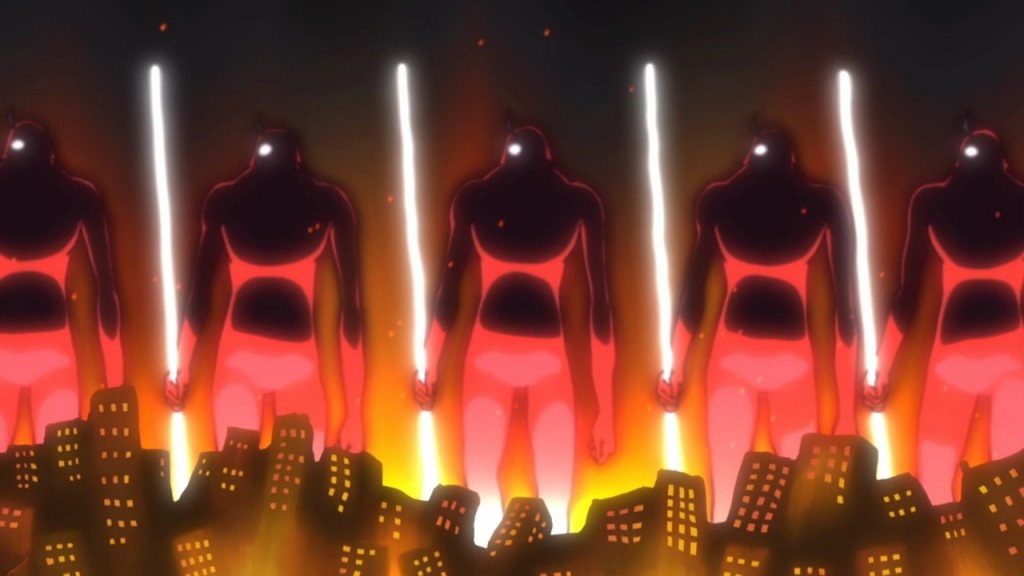 Here's two of the not-so-humanoid giants from Nausicaä: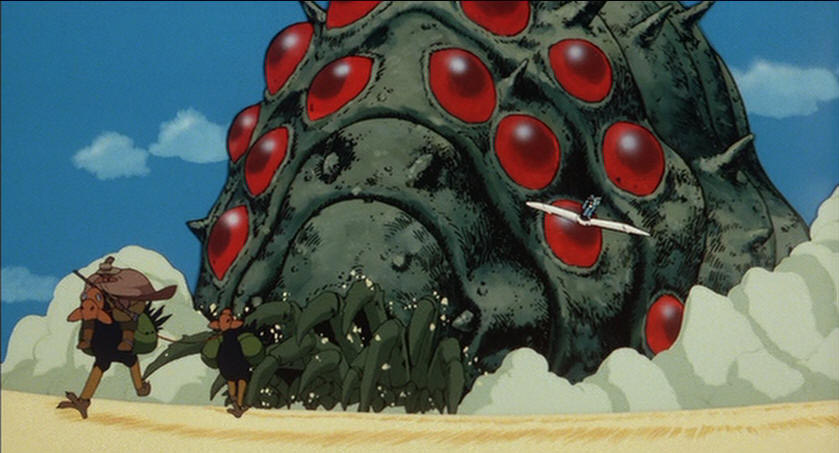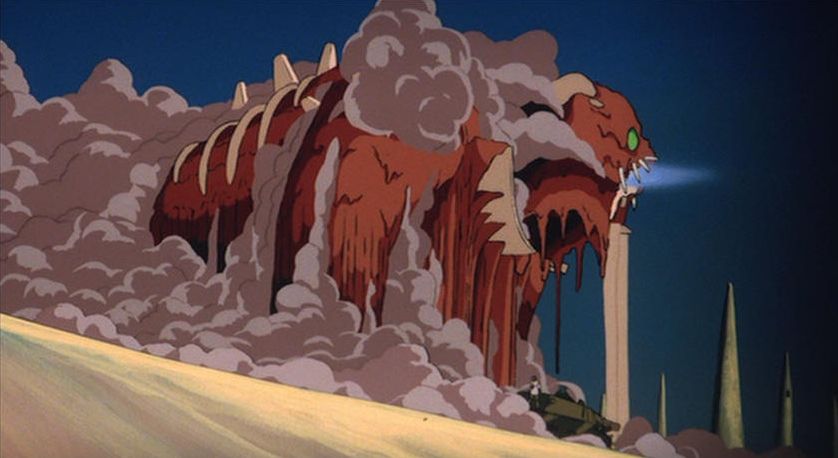 Centred around the arrival of a nuclear-spawned monstrous God Warrior in the much kaiju-visited Japanese capital, Kyōshinhei Tokyo ni Arawaru will be directed by Shinji Higuchi, who was a storyboard artist on Evangelion.
It will not be using computer graphics, but is intended to celebrate traditional filmmaking techniques, especially the use of miniatures. The God Warrior is apparently an updated version of the God Warriors from Nausicaä. You can get some idea of what he looks like from the following teaser clip:
[youtube yW7i6fj_ZJw]
In association with the film, figures makers Max Factory, Kaiyodo, and Good Smile have created a series of statues and figurines of the Mad God: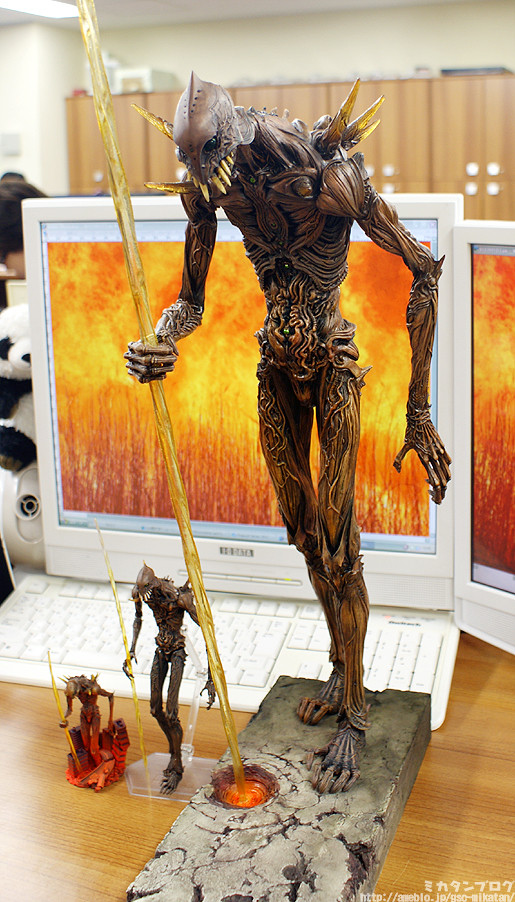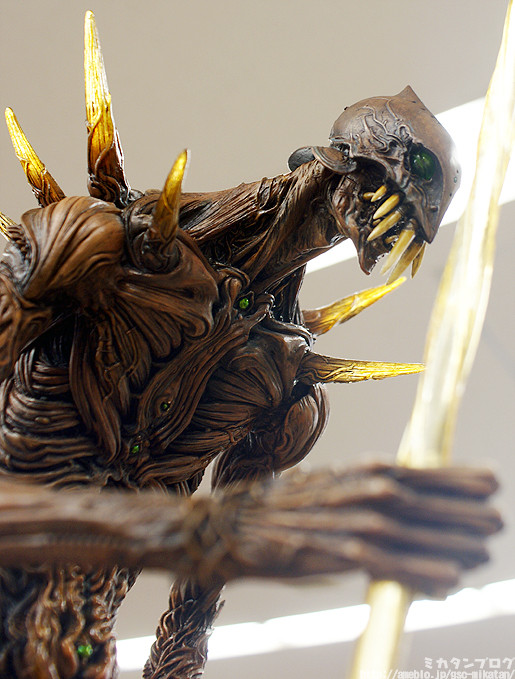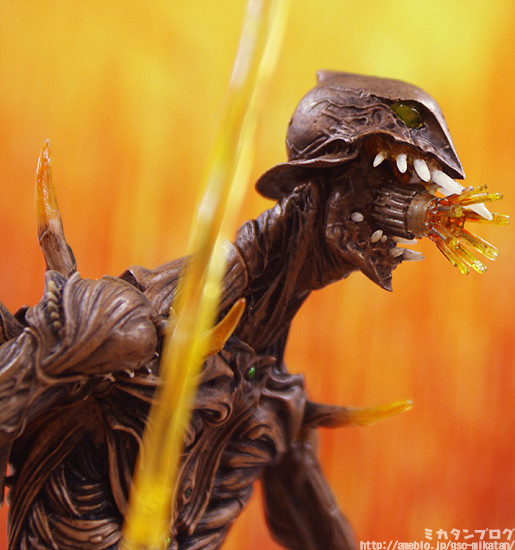 Beautiful!
Sources: Twitchfilm via Avery Guerra; AnimeNews Network; Crunchyroll.com. Text by Robert Hood.
Addendum:
Here's a curiosity. I don't know what this is, but there's a certain similarity to the design of the creatures, though the animation leaves much to be desired. It appears on YouTube after you run the Anno clip, but clearly has nothing official to do with it.
[youtube HdlFNAv1Q28]