A while back the Backbrain discussed at length Japanese artist Takashi Murakami and his upcoming live-action giant monster film, Jellyfish Eyes. (See The Art of Monsters: Takashi Murakami and Jellyfish Eyes.)
As exciting as that is, the website for the SECOND film in what promises to be a trilogy has now appeared. (Check it out here.) Where the first film portrays the catastrophe that has gripped the nation, "Part 2 takes place two years later and expands upon the scenario with new twists and turns". (Source)
The site offers a production diary and includes lots of on-site pictures, such as this one of Murakami and… um, friend…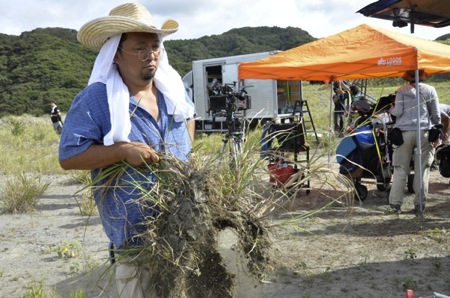 A third film hasn't been officially announced yet but we can safely speculate that it is surely forthcoming.
A source from the production, who wishes to stay anonymous for now, commented to Kaiju Search-Robot Avery:
There will be heavy CG involved, but Takashi has handsketched/designed a number of new creatures that are featured in the films. It's a long process and work is still being done on the first movie, even as shooting happens with the second.
Source: Avery Guerra. Text by Robert Hood