A Backbrain Exclusive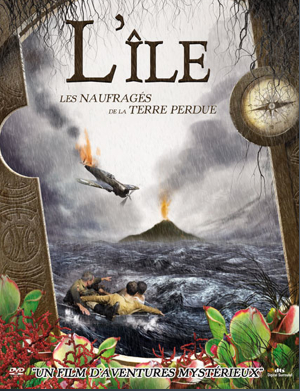 Lost Island [aka L'île: les naufragés de la terre perdue; The Island: Castaways of the Lost Island] is a new French adventure fantasy film from writer/director Olivier Boillot, released in mid-2011 in France and hopefully heading for an English release in 2012 (though it is currently available in France on DVD/Blu-ray, with English subtitles).
Synopsis:
It's 1942 and three men have just crashed into the ocean in the middle of nowhere. The stranded men find shelter on a nearby deserted island. As they slowly discover, they are not alone.
Lost Island looks to have been inspired by Jules Verne's novel, L'Île mystérieuse (aka Mysterious Island), and/or any of the films based on it. As you'll see from the trailer, it also carries suggestions of the TV series Lost and perhaps even Edgar Rice Burroughs' The Land That Time Forgot, the latter of which was most recently filmed by the Asylum and directed by C. Thomas Howell. Basically what all these have in common is a group of people stranded on an otherwise unknown island that is inhabited by big creatures (mostly dinosaurs). The monsters are often (at least in the case of Mysterious Island and Lost) the result of scientific experimentation or arcane knowledge of some kind.
What sort of monsters Boillot's film has, and how they got there, are merely hinted at within the trailer (here presented with English subtitles), but it looks pretty intriguing. Certainly the hints not only of monstrosity but of arcane mystical/pseudo scientific artefacts (not to mention the huge hole in the ground — interdimensional portal?) give what might have been a very ordinary survival tale enough interest for me to want to seek it out.
[youtube HMxRMnGsf9A]
It fascinates me how much more effective these sort of tales always seem, on film at least, when their creators give them a period setting.
Lost Island stars Michel Béatrix, Cyrielle Debreuil, Paul Descombes, Kaddour Dorgham and Jérémy Duplot Jr. The Gallery below includes some location shots of Jérémy Duplot Jr. and Kaddour Dorgham during filming.
Gallery:
Addendum: Behind The Scenes/Making Of Videos

[myspace 16785424]
[youtube BPDU48z1gcs]
Sources: Alexandre Simard and Olivier Chekroun for Highland Film Group and Emylia. Via Avery Guerra. Written by Robert Hood.