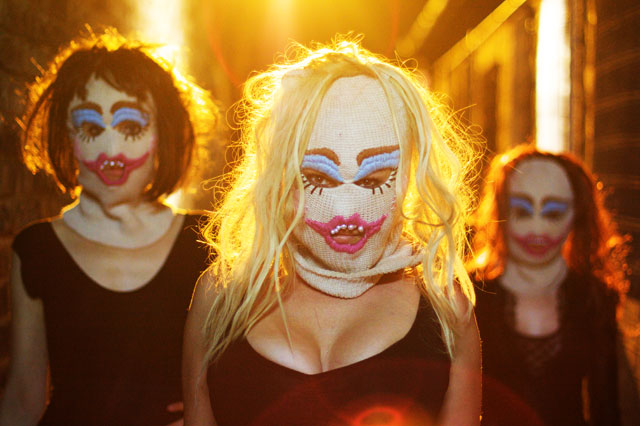 How many horror films have been set against the background of the fashion industry? And does Showgirls count? I can think of a few that deal with cosmetics, such as The Wasp Woman (US-1959; dir. Roger Corman and Jack Hill) and its 1995 remake. But I doubt that there have been any with the look and credentials of Animal Charm, a satirical tragi-comedy horror thriller directed by Ben Charles Edwards and starring, among others, Boy George — not as a super-model as it happens, but as a policeman. The film has the look and feel of something made by John Waters in collaboration with David Lynch, maybe with Cronenberg in an advisory role.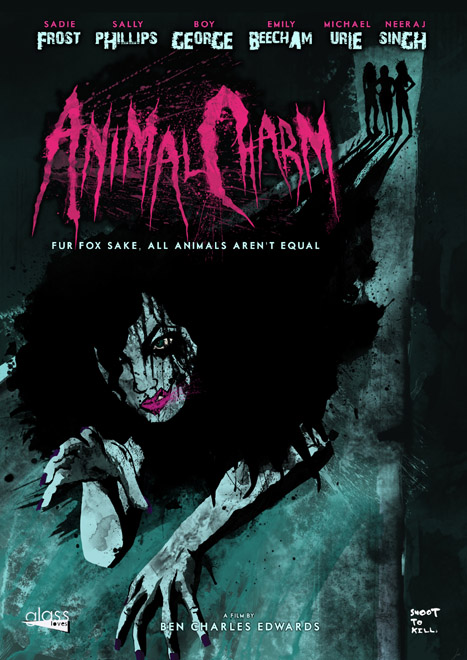 Synopsis:
During her performance in a tasteless musical based on Animal Farm, ex-fashion designer and fur fanatic, Anne Thrope (Sadie Frost) is kidnapped by a group of animal activists led by her nemesis, Audrey Hoober (Sally Phillips). However, have the activists bitten off more than they can chew? With the help and hindrance of Thrope's put-upon assistant, Verdell, the police close in on the kidnappers. But is too late? And is it Anne that needs salvation…?
Trailer:
[youtube L8p-mm169Fc]
Animal rights can provide a good theme for horror. Hitchcock's The Birds was about the wanton cruelty of keeping birds locked up in tiny, gilded cages, right? 28 Days Later… began with experimental animals being released into London and subsequently bringing about a devastating viral apocalypse. But the fashion industry — spiritual heart of the world of glamour — has another curious connection to the horror genre. Did you know that the word "glamour" originally referred to the veneer of magical illusion that sorcerers used to hide themselves and to change their appearance? Werewolves transformed from man to wolf through the use of a glamour. How appropriate this is, now that the word refers almost completely to the veneer of make-up and fashion consciousness behind which women (and men) hide their "ordinary" unadorned appearance.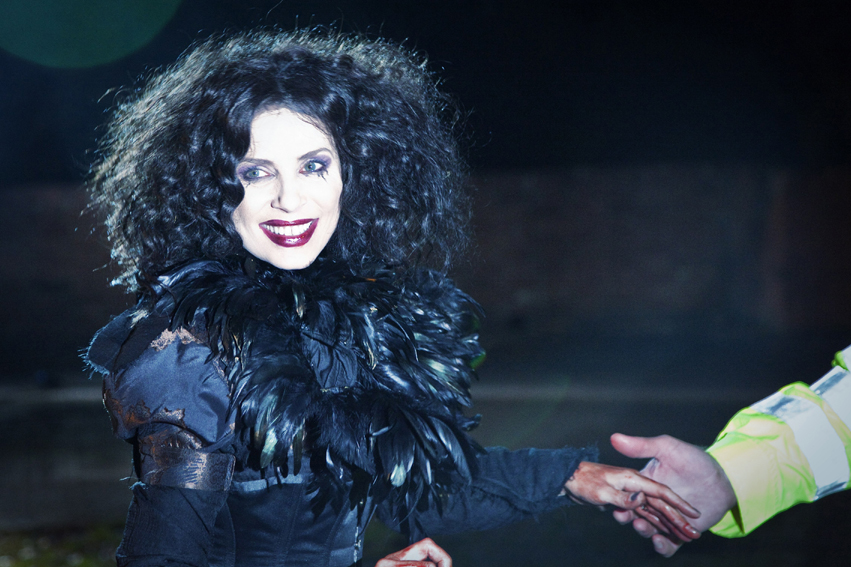 Extended Synopsis:
Under the glare of stage lights and in the blue moonlight that falls through the windows of an isolated country farmhouse… and finally in the flashing police lights of a strange and horrifying climax, two fashion giants of yesteryear play out their rivalry and take a grudge to the bitter end.  This is a true bonfire of the vanities.

Anne Thrope (Sadie Frost) used to be the biggest in the business and with an ego to match.  Once a much feted and successful fashion designer, the lights of the catwalk have now faded and her glory days are behind her.  In a disastrous attempt to reignite her celebrity and reinvent herself as a West End star, and with the help of her trusty ass-kissing assistant Verdell (Neeraj Singh) she has produced and taken the central role in a new musical adaptation of Animal Farm, entitled "Animal Charm", which is an unapologetic defence of her use of fur and a vulgar vanity project, and is sinking faster than the Titanic with critics and audiences alike.   But Anne captures the headlines once again when she is snatched from the stage during a musical number; abducted by masked animal rights activists led by Audrey Hoober (Sally Phillips), along with her right hand woman, model/animal rights terrorist Jezebel (Emily Beecham).

Audrey and Anne were friends and came up through the fashion ranks together, until their rivalry and the love of a man came between them.  Audrey's own fashion career crashed and burned long ago after a particularly hideous fashion faux pas and over the years her mind has gone the way of the cuckoo bird and her resentment of Anne has turned into a vengeful obsession.  Now she has Anne where she wants her… or so she thinks.  Over the course of a single night, while Anne's assistant Verdel tries to convince butch, non-nonsense policeman (Boy George) to take the disappearance seriously, this conflict reaches its horrible conclusion, and all concerned realise just how much fashion has changed.
Intrigued by the bizarre humour promised by the trailer for Animal Charm and the almost surreal imagery that must inevitably arise from the story's background in fashion, the Backbrain's news-robot, Avery Guerra, decided to track down the film's director/co-writer and get the goss on it.
An Interview with Ben Charles Edwards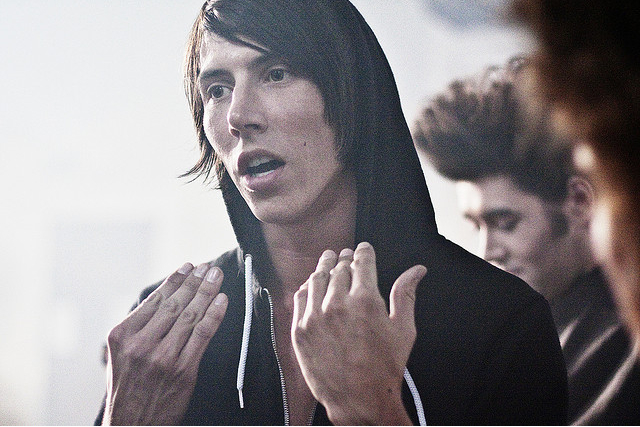 Undead Backbrain: Is this a short or feature? If so, is this your first feature film?
Ben Charles Edwards: A featurette, as I call it.  It has full narrative, cast list and an original score throughout, including a track especially written for the closing titles by The Puppini Sisters. However, this film is a miniature feature, coming in at around 30 minutes.
UB: What was the inspiration for Animal Charm? How exaggerated is its depiction of the fashion industry? Were you shooting for satire or a more-or-less accurate portrait?
BCE: Animal charm was written in collaboration with Dominic Wells (former timeout editor) whom I met when he interviewed me for The Times article on my first short film "The Town That Boars Me", also starring Sadie Frost. We set to work on a peculiar story borne of both of our imaginations based around the central anti-hero, Anne Thrope. Animal Charm is a hyper-real satire.  It's like a circus hall of mirrors — what you see is real, but exaggerated and distorted.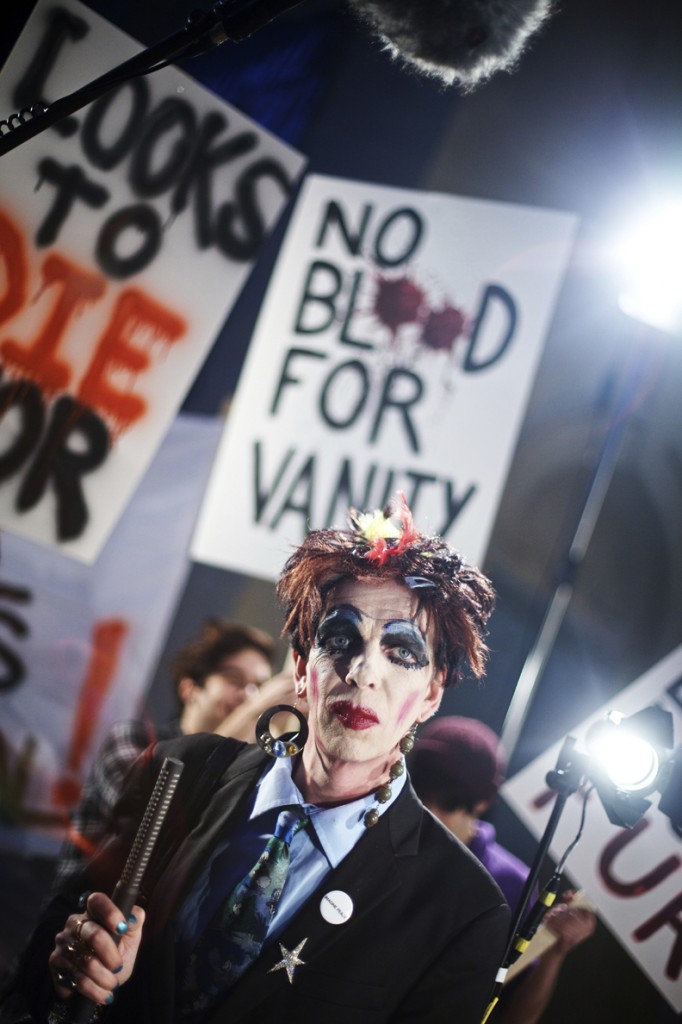 UB: Beyond the plot, what is Animal Charm about, at least from your perspective?
BCE: Animal Charm is partially auto-biographical in the sense that I drew on personal experience which I then amplified to the point of surrealism: my time working in the fashion industry as a photographer, witnessing the desperation of success and the need to be noticed. Success is a very slippery slope to climb in this industry, and managing to stay at the top is even harder. The humour and jealousy of sibling rivalry between the two leads is also similar to that which I experienced growing up in a large family. I drew from many different films which have stuck in my mind from childhood, and there are plenty of homages paid to these films throughout Animal Charm; films such as Sunset Boulevarde with its satire of the media, which when I saw as a child made me realise that film had no limitations and could be playful, sincere, timeless and brilliantly original all at the same time.  I have an early memory of my father taking me to see Death Becomes Her in our hometown. I couldn't get my mind around these new special effects and I felt like I was watching magic on screen.  And Serial Mom, a film that I became obsessed with as a teenager — watching it time after time, picking every line, character, set, and marker spot apart until I understood the complete make up of the film's production.
"Bob Dylan once said the entertainment industry had exploded in our faces. This film is an examination of the mess left behind after that explosion."
Animal Charm is a regurgitation of all of these things; the experiences, characters and lives of myself and all the people involved. Bob Dylan once said the entertainment industry had exploded in our faces. This film is an examination of the mess left behind after that explosion. It is a parody of the lives of those in fashion or entertainment and the desperation that pushed them hard to shine and stay on top and the depths to which you will sink to get back up there if you fall.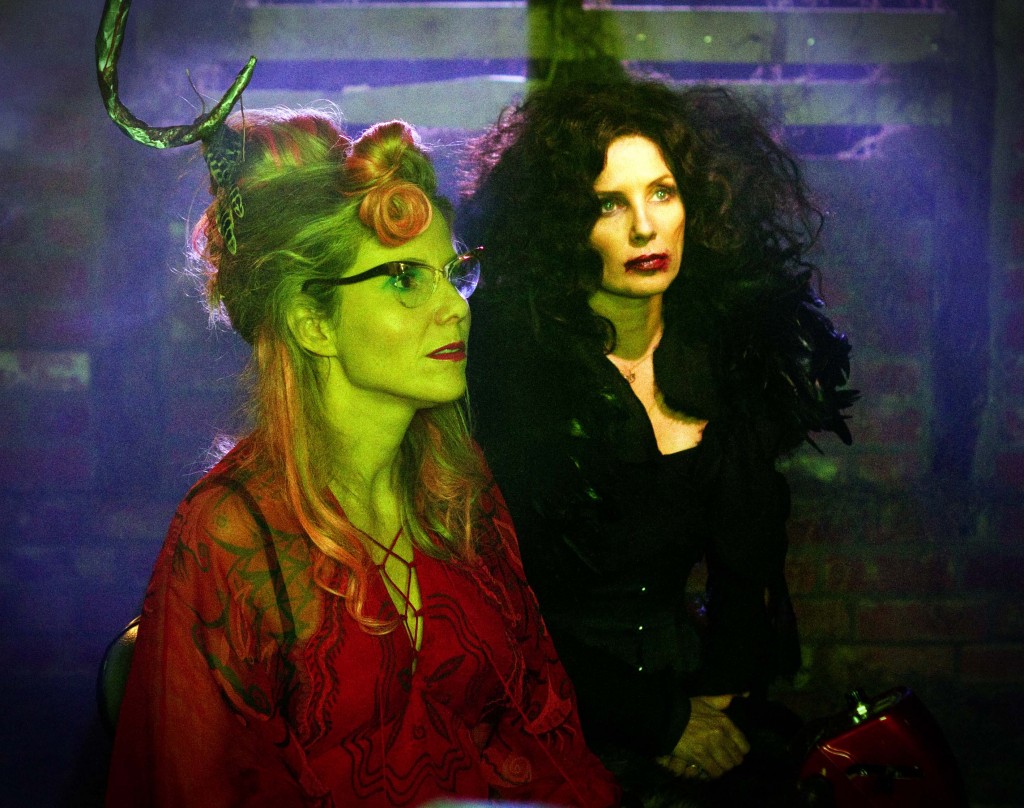 AG: Is the film completed yet or at what stage is it?
BCE: Yes Animal Charm is complete and it is now being submitted to Film Festivals worldwide. All show dates will be listed on my website www.bencharlesedwards.com
AG: Has the film had its premiere?
BCE: Animal Charm had a private press and cast/crew screening in Leicester Square, London, at the W Hotel at the end of January. The response was brilliant, along with the turn out number of guests, the film was screened five times in one evening to allow everyone to see it. I wasn't sure what to expect. I felt like I had been looking too closely at the film for too long — so the premiere was the first time I could reflect and watch others reactions to the film. There was a lot of laughter. I guess that's the good side of making a dark comedy — you can measure the success of it based on the amount of laughs.
AG: Are there any other upcoming screenings planned?
BCE: Yes, visit www.bencharlesedwards.com  for screening updates.
AG: Does the film have distribution yet?
BCE: Talenthouse.com, an online artistic community who helped fund the film, have assisted me in distributing it out to all major film festivals worldwide. So I think I will keep this for the festival circuit for the time being.  I just want as many people to see the film as possible. I haven't made this for profit (as I'm sure you can tell from its rather niché appeal!)
AG: The film is full of such great talent from Sadie Frost (Bram Stoker's Dracula) to Michael Urie (Ugly Betty), and Sally Phillips (Bridget Jones's Diary) among others. How did you go about casting the different eccentric characters in the film?
BCE: When I was a kid I watched Francis Ford Coppola's Dracula over and over again.  I just thought Sadie was so beautiful and charming in it, and I thought the animal imagery was fascinating. It really struck a chord with me.
Later in my life, feeling dissatisfied with fashion photography, I decided to make a film – a bit of a leap into the dark as I knew absolutely nothing about filmmaking. However, I went ahead with an outrageous musical, a social satire called "The Town that Boars Me", about a man/pig hybrid that terrorises a town and attacks women for their high-heel shoes, all in song.  I knew from the beginning I wanted Sadie to play the Queen of the town who has the boy-pig killed and served as the main course at a banquet. And when we met I could see instantly she had the humour and the presence to be queen of that vicious little town, and I thought it appropriate, given her treatment at the hands of the press at the time.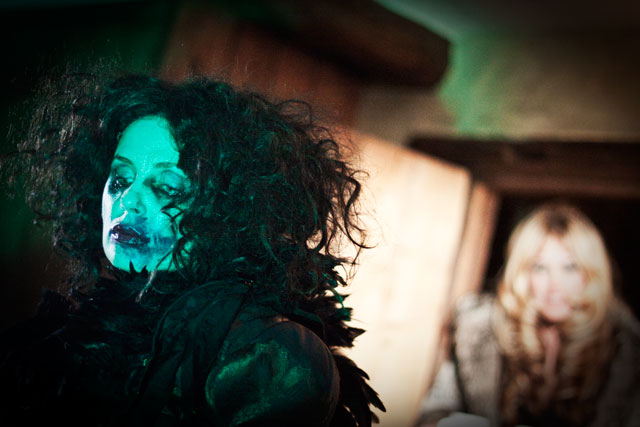 We had so much fun making that film, and Sadie and I had developed a really creative professional relationship, that I knew I wanted Sadie to be in the next project I did, and that's why I wrote the character of Anne Thrope in my new film Animal Charm specifically for her.
Sally Phillips and I met at the British Film Institute, I showed her the script, which she later said was "so mental that I was drawn to look into the role further" — and so we began on developing Anne Thrope's Nemesis "Audrey Hoober".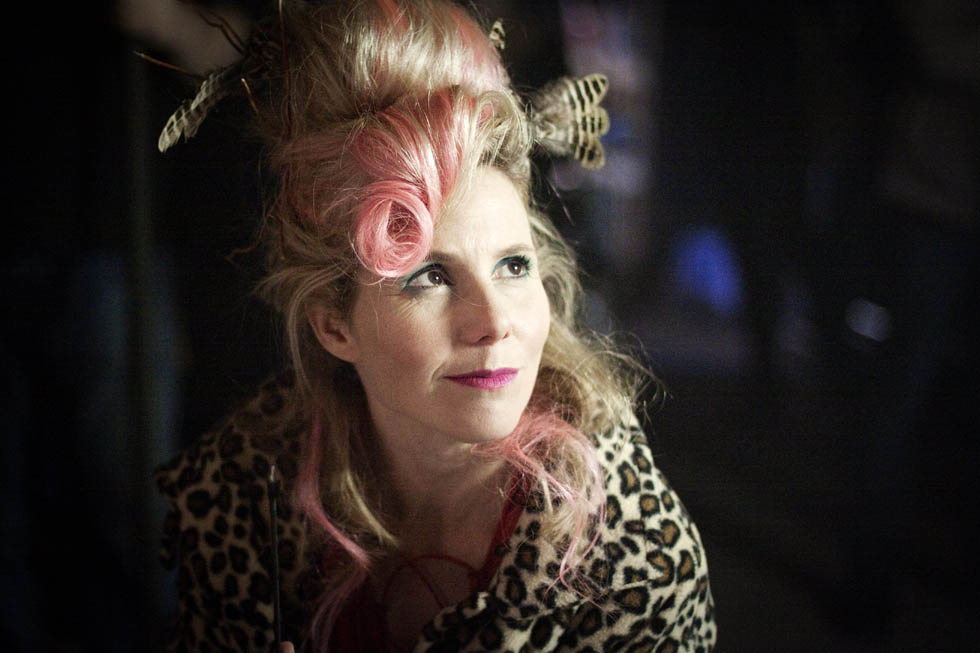 AG: Were any of the characters based on or inspired by real life?
BCE: Each character was written with the actor in mind. I have always admired Boy George, Sadie Frost and Sally Phillips. And I felt Sadie and Sally would make great nemeses, in the tradition of Joan Crawford and Bette Davis [in, for example, Whatever Happened to Baby Jane?]. I felt the parallels between Sadie's life in fashion, acting and being hounded by the press, and Anne Thrope's character made her perfect for the role.
AG: The legendary pop icon Boy George plays a rather serious cop character in the film — a rather masculine and bearded one at that, when he is so well-known for being a flamboyant and androgynous celebrity. A bit of irony and a role switch, that is. Was this intentional and if so what was his initial reaction to playing this role? What was he like to work with on set?
BCE: The film was full of colourful pseudo characters as it was. However, in our real world Boy George is the real thing. It would have been lost in the film to cast him as himself, so I drew on Boy George's personal legal history to cast him as a homophobic police officer instead. George was wonderful to work with.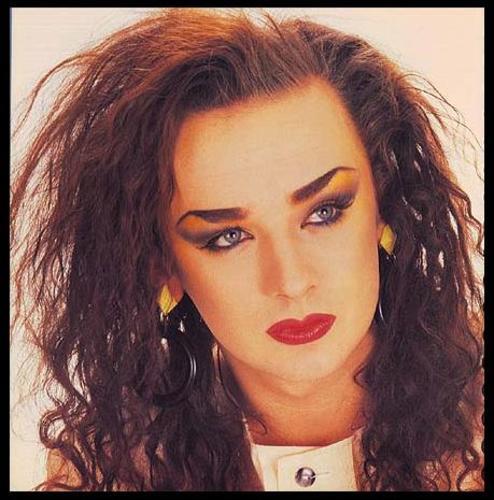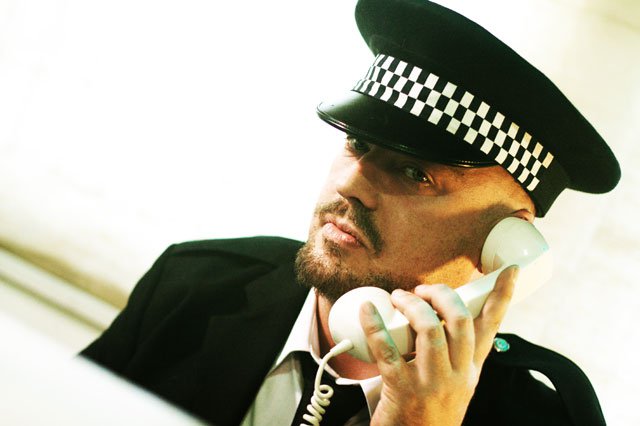 AG: What would you like the audience/fans to take from Animal Charm?
BCE: I hope the experience of watching Animal Charm is the cinematic equivalent of being punched in the face with a whoopee cushion — a whoopee cushion full of shit. I hope it will leave everyone with something. Preferably a rash.
AG: What's next for you? Any prospective film projects you care to share with us?
BCE: This year, Sadie Frost and I are going to do our first feature together. An adventurously ambitious story which Sadie has created herself. It's brilliant!! It's particularly funny and dark and full of dream worlds and bad haircuts.  We can't wait.
AG: In closing, is there anything you'd like to add to address the fans?
BCE: Use your time and resources to create something of your own, be it a film or a short story. It doesn't have to cost a thing to make a new idea reality…  If you make a painting or a film that you enjoy, you will enjoy giving it to other people, not selling it.
[youtube 4Zpxb8VyZLg]
Addendum:
Animal Charm has "cult classic" written all over it. It has already inspired a gallery of amazing fan-made posters. Check them out.