A Backbrain Exclusive
Well, the truth is finally out!
Back in February 2011, the Backbrain brought the following trailer to your attention, faithful daikaijuphiles. And perhaps created a few over-excited expectations in the process.
[youtube yL0Y7lZhAFM]
This, however, was but a demo teaser, and now, at last, the actual thing rises and fully reveals itself to the world!

[youtube rsnaJ5n1wWc]
Jumbo Monster Gomera [aka 傻瓜怪兽 哥美拉!] (Japan-2012; 12 episodes [5 min. each]; producer Junya Okabe) is in fact a kid's show, Japanese-style. It features a giant monster from Monsterland named Gomera, who wants to be a fierce and brave monster like Godzilla and Gamera, but is rather too timid to effectively manage all that destructive rampaging (despite having big balls). His friendly and nervous disposition keeps getting in the way. In episode 1, which you can watch further down in this article, he even has trouble getting his "Gomera Ray" working — until those "big balls" I mentioned are brought into play.
Sadly then, this picture is but a dream: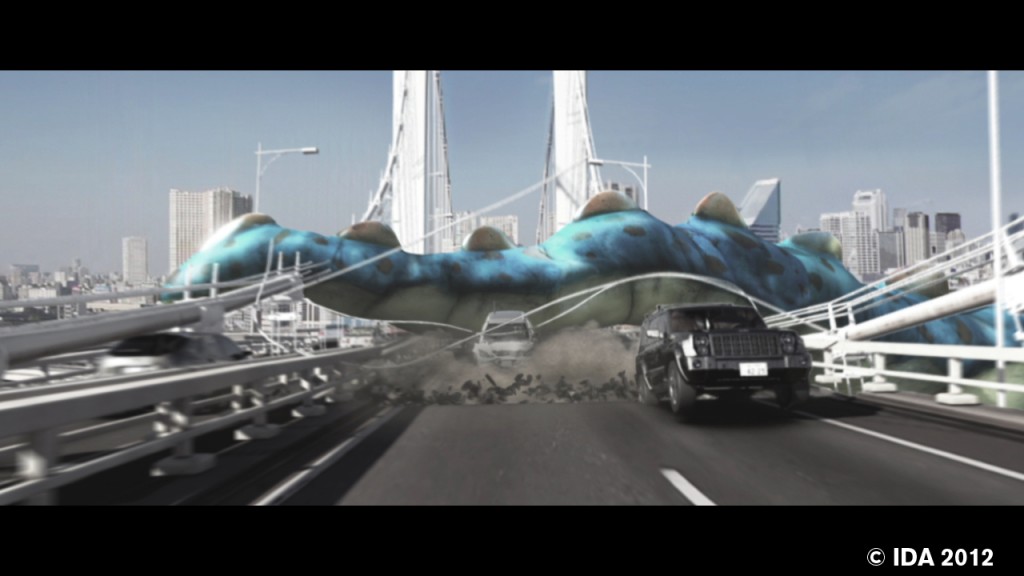 and this is the reality: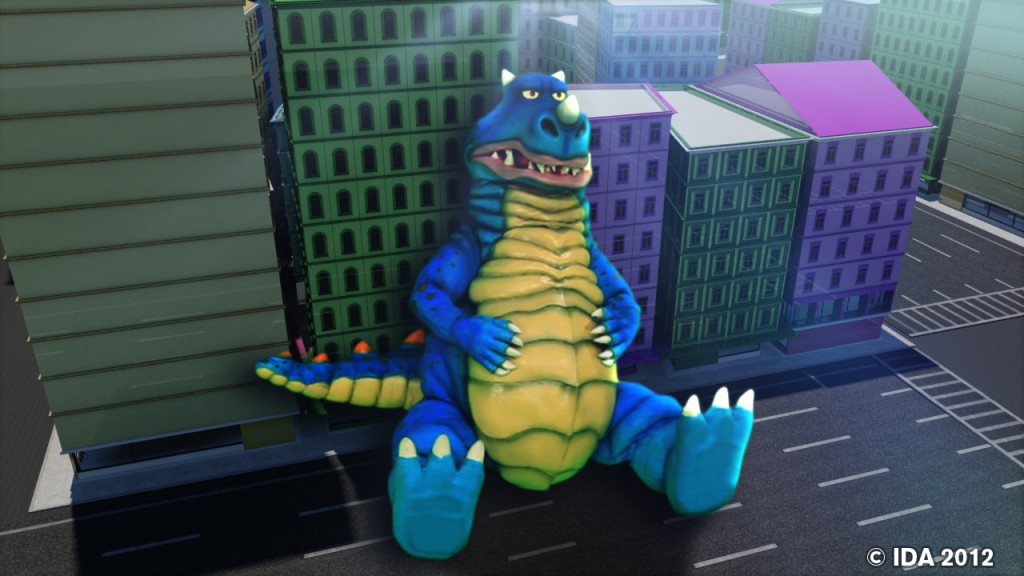 Producer/director/writer Okabe describes the show as "a silly monster program aimed at 3-6 year olds" and commented to us:
Special effects character programs for modern children say they are aimed at 3-6 year olds, but they aren't in reality. I wanted to create a comical monster program that 3-6 year olds could respond to and understand without complication. The current kids' programs tend to be linked to the development of toys, but I feel the tendency has accelerated in recent times too much. I wanted to create a film in which the characters had forgotten they are toys. Rather, I want children to play toys with their character's power. My idea would be considered silly by the modern-day industry, but it's my challenge.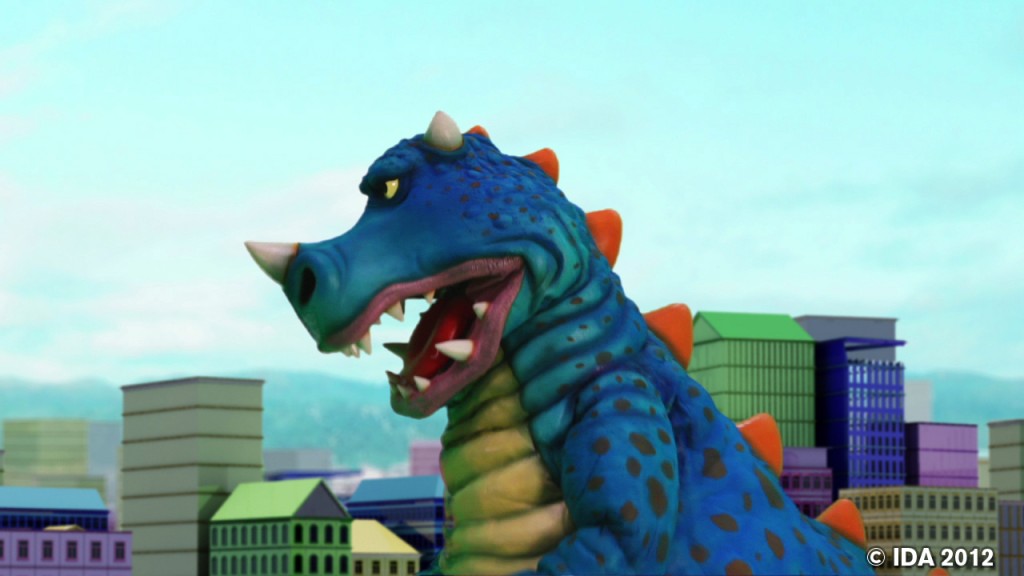 The first episode of Jumbo Monster Gomera was released internationally via Youtube — and here it is:
[youtube rsnaJ5n1wWc]
According to Yasumasa Kutami, Business Development Director / CEO of distribution company IDA's US branch, 12 episodes "have so far reached production, thanks to a variety of creators".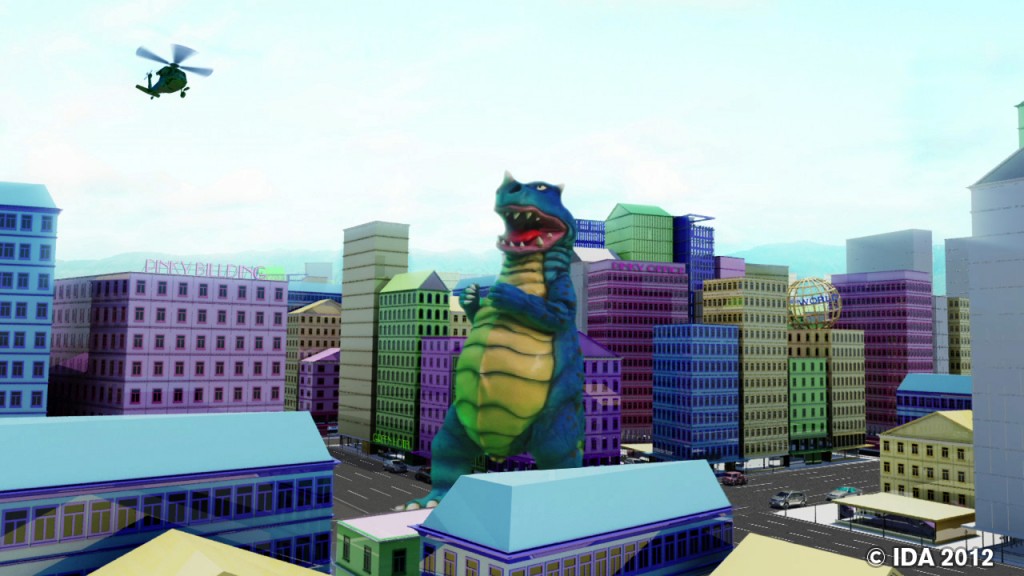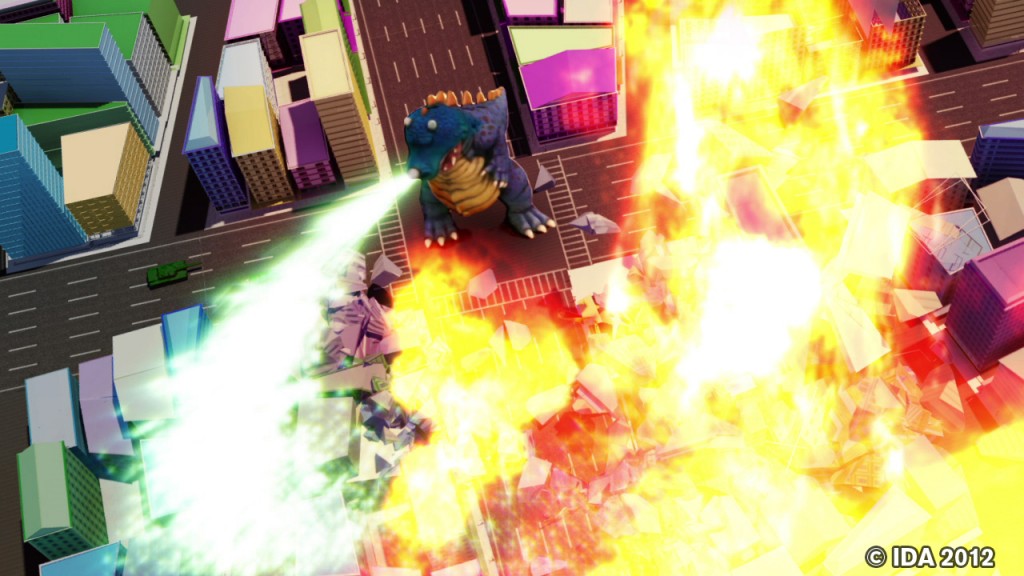 Then there's the marketing. To quote the press release:
The production has been published from June 1 by Shogakkan, a major Japanese publisher, in a paper-format series called "Terebikun". As well as further serialized paper-format publishing from June 21, "Korokoro Ichiban" (also from Shogakkan), all parts of episode one of GOMERA will be recorded on a DVD in advance of the internet video publication. "Terebikun" publishes 350,000 copies each month and "Korokoro Ichiban" prints 150,000 copies each month. The special DVD that comes with these magazines will be released four times a year and so 2 million DVDs will be distributed in total in the year.

The GOMERA soft-toy will also go on sale in connection with the release of the production. The figurine will be sold by IDA Productions. We will advertise on banners connected to net versions of the films, linking customers to independent sales websites such as Amazon, and we will sell production-use replicas based on the real GOMERA costume used in the films for 1.6 million Japanese yen (not including tax). We also plan to later sell toys and goods ourselves. We are creating a new business model that will obtain character sales income that exceeds regular character rights permission sales by 3-5%.

This production is the first part of IDA's new creative expansion that does not rely on the government, "HEAT JAPAN" and we are expanding our figurine and toy sales within the internet sales infrastructure and internet video distribution throughout the world in multiple languages.

Video distribution with limited management of the viewing area within English, Spanish and Chinese. We will upload the video onto major video distribution sites such as Youku in advance of pirated versions in the Chinese language region.
He added that Gomera is the first project in IDA's new strategy "to enhance Japanese creative culture" called HEAT JAPAN. This plan is not funded by or otherwise dependent on the Japanese government.  "Along with exploitation within Japan, we are extending its brand and market globally by utilizing YouTube and Amazon."
FYI, IDA was behind the release of the left-field animation Cat Shit One in 2010, a series produced by the people responsible for Gomera. According to Kutami, the Cat Shit One DVD/Blu-ray sold over 20,000 units in Japan alone and was nominated for the short animation category at VES awards.
Further episodes of Gomera can be seen on IDA's YouTube channel as they are released.
Source: Yasumasa Kutami via Avery Guerra. Written by Robert Hood. Official website.