Sasquatch (aka Bigfoot, close cousin to the Abominable Snowman or Yeti) may be the new Vampire. As yet he hasn't been romanticised and made into a de-fanged love-interest (though the 1989 film Harry and the Hendersons, directed by William Dear, got close and there's always Yeti: A Love Story to consider, if we must). But there has been of late an apparent upsurge in interest in the Sasquatch as the subject of independent horror films, so a glittery treatment might be just around the corner.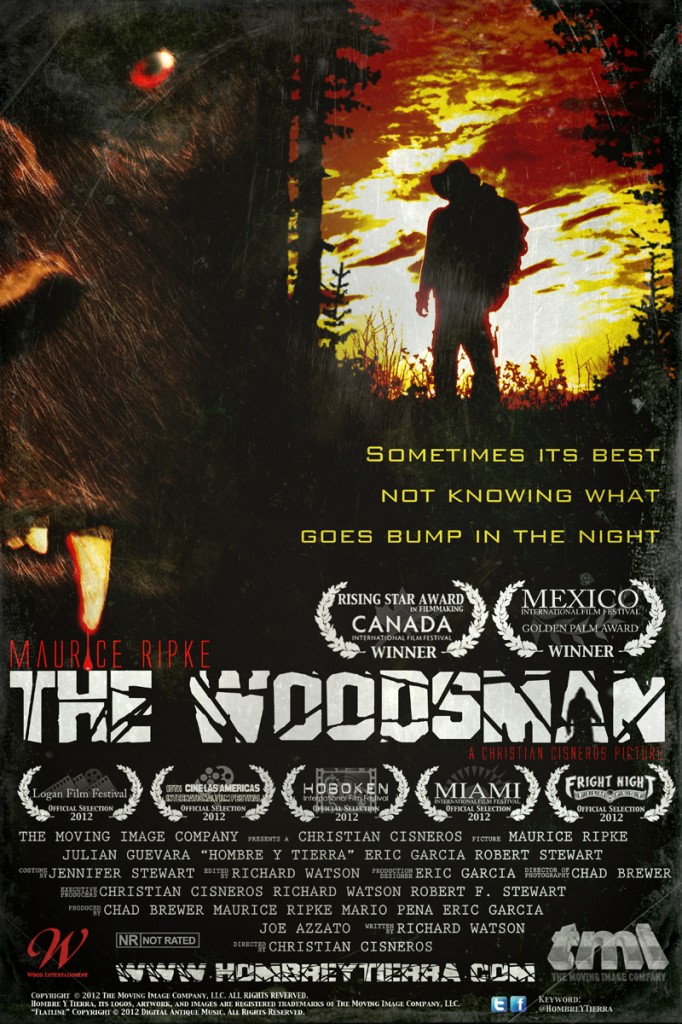 Meanwhile, as we wait in fear for that moment to arrive, The Woodsman [aka Hombre Y Tierra] is the latest genuine Sasquatch horror to raise its hairy head, a nifty-looking flick listed as a co-production between the Central America/Caribbean country of Belize and the USA. Directed by Christian Cisneros for TML (The Moving Image Company), it is yet another "found footage"/ POV-style film — a form that has gone ballistic since popularised by 1999 creepfest The Blair Witch Project, but is susceptible to bouts of over-enthusiastic jerkiness. Hopefully The Woodsman will land on the effective rather than irritating end of the scale — more The Troll Hunter or Paranormal Activity than The Zombie Diaries. At any rate from the trailer it looks as though it takes its horror heritage seriously.
[youtube wBAnEAHH5p4]
In brief, The Woodsman tells the story of Mauro Bosque (Maurice Ripke), an adventurer who disappeared into the forests of Belize while filming an episode of his popular web-series, Hombre Y Tierra. What happened in the woods during that three-day hike has remained a mystery until the recent discovery of classified footage stolen from a Belizean government office.

Synopsis:
Mauro Bosque was an adventurer, a survivalist, but most of all he was a dreamer. Driven throughout his life by the stories told to him as a child by his grandmother, Mauro spent his days exploring some of the most dangerous places in the world and sharing those adventures on his Internet based reality show, "HOMBRE Y TIERRA".

In January of 2005 he began his greatest adventure yet, exploring the dense forests of Belize to search for a series of legendary caves which he believes were once home to a clan of historic Mayan warriors. The journey began with dissension between Mauro and his producer but quickly returns to normal. Mauro tell his producer Chucho what he wants to hear but secretly Mauro had made up his mind that he would take this journey on his own terms regardless of the consequences.

With Mauro now on his own he quickly becomes lost when the river he planned to follow becomes uncrossable. His journey to find a way across the river leads him directly into the territory of an ancient beast who does not want Mauro encroaching his boundaries. Mauro knows something is now tracking him and as the darkness closes in around him he becomes increasingly wary of who or what is out there waiting.

This is the terrifying story of a man searching for a dream, only to find his greatest nightmare. (From an official press release)

Interestingly, the film was shot with two soundtracks — one in Spanish and one in English. "My team and I set out to do two things," Cisneros told the Backbrain.
"One, make a movie for the least amount of Money, Crew & Cast possible, and Two, make what seemed to be a foreign film. I have always wanted to make a Spanish language film. What we did do eventually is make two movies. Since my writer and I don't speak Spanish we created the story in English first and then had it translated into Spanish by our actor Maurice Ripke. Since we had the script in both English and Spanish and our actor was bi-lingual, we decided we should naturally just shoot every take in both languages. What it gave us was two films. The Spanish version is currently doing the festival run and both versions are currently at Cannes with our International Sales Rep."
The film has already won "Rising Star Award in Filmmaking" at the Canada International Film Festival and "Golden Palm Award" at the Mexico International Film Festival.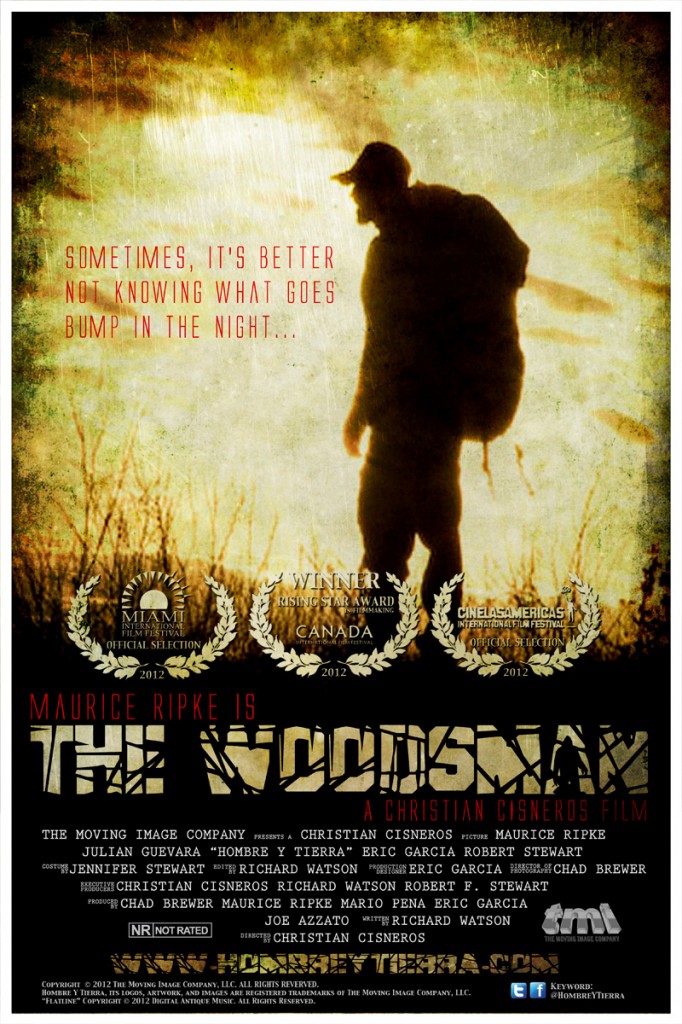 The English language version of The Woodsman will make its World Premiere as part of the 6th Annual B-Movie Celebration's Film Festival to be held in Columbus, Indiana during September.
Sources: Christian Cisneros via Avery Guerra; Press release; Official website; Facebook page; IMDb entry.
Addendum: Spanish version of the poster