A Backbrain Exclusive
In the past I've expressed a certain ambivalence when it comes to camera-verité style movies (as I like to call them), sometimes referred to as "found footage" — you know, those rampantly kinetic, hand-held exercises in pretend reality that came to the fore in genre flicks following the success of The Blair Witch Project. We've had them with ghosts, giant monsters, werewolves, assorted crypto-zoological critters, trolls, aliens, tiny robots and zombies … lots of zombies. Some don't work for the usual reasons that films don't work. Others may be effective, but the unplanned frenzy displayed by the camera and a complete failure to achieve the appearance of accidental shooting more by intent than by accident makes them impossible to watch for anyone who suffers from cinematic motion-sickness. Others bypass this problem by actually knowing how to create a cinematic illusion of reality in ways that are tolerable to watch. Rhythm is the key. Nearly all of them suffer from a moment-by-moment bug-hunt plot structure that may be involving, but never succeeds in generating an actual plot. Certainly for them to work, they need not just an interesting scenario but characters the viewer can believe in and care about.
Embedded (US-2013; dir. Michael Bafaro) — a creature feature featuring an unspecified creature  — is the latest addition to the sub-genre. It has the potential to slot into the positive end of the camera-verité spectrum, firstly because it seems to have a genuine mystery at its heart, secondly because its news-footage approach offers hope of there being a rhythm to the camera movement that allows the viewer's suffering optic nerves to adjust, and thirdly because the two awards it has won (as noted on the poster below) are for narrative and cast.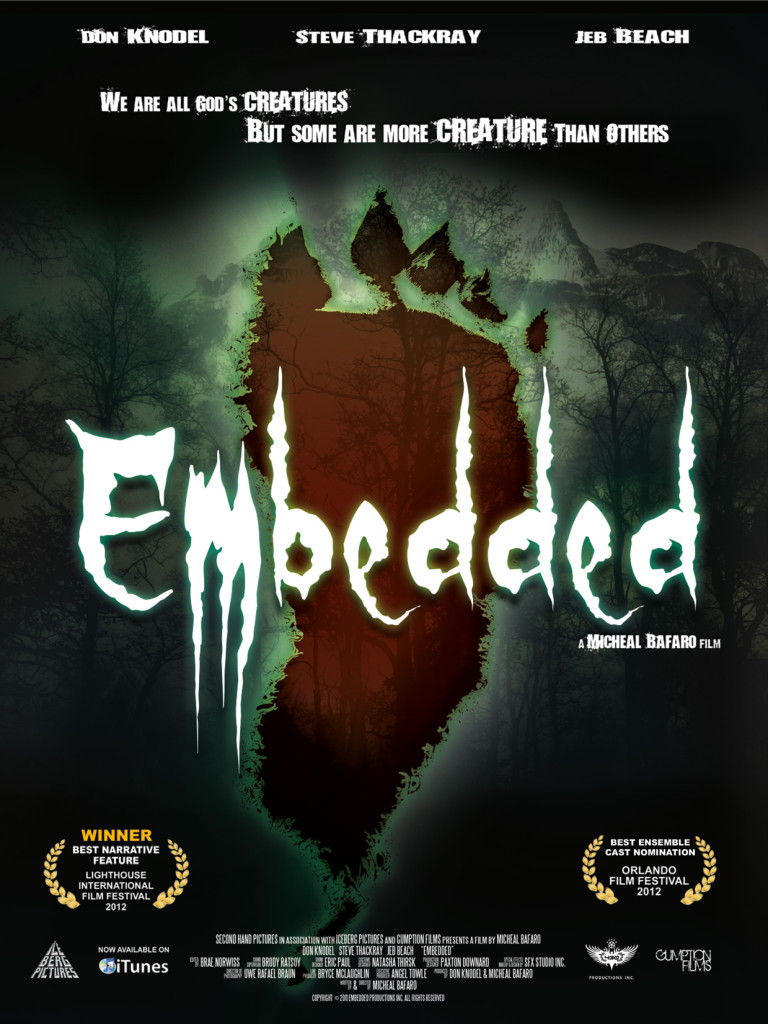 Synopsis:
Through the lens of the camera, James Parnell, a seasoned correspondent for NBS news and his cameraman Tom Whittaker, embed themselves into the nine-person posse that sets off into the rugged wilderness terrain of the Rocky Mountains to find a missing child who may become the next victim of what is believed to be a rogue grizzly… and to later discover that some things reach beyond the darkest realms of human nature…
The film's cast includes Don Knodel (Man Without a Name), Steve Thackray (The Ennead), Jeb Beach (Rise of the Planet of the Apes), Jennifer Koenig (Once Upon a Time), Krista Magnusson, Arpad Balogh, and Lori Watt (Watchmen).
Trailer:
[youtube uWqCnowo_Vw]
I have no idea what sort of monster we're dealing with, but this I will say: it involves teeth, hair, blood and a touch of drool:
And the victims? Much the same:
The film will be coming soon.
Source: Don Knodel via Avery Guerra.