A Backbrain Exclusive
It's official. CGI hasn't totally killed off the latex suits and miniature sets. Undead Backbrain, in the person of monster-film hound Avery Guerra, has unearthed a new, good-looking daikaiju eiga (giant monster film) being made using traditional Japanese SFX techniques.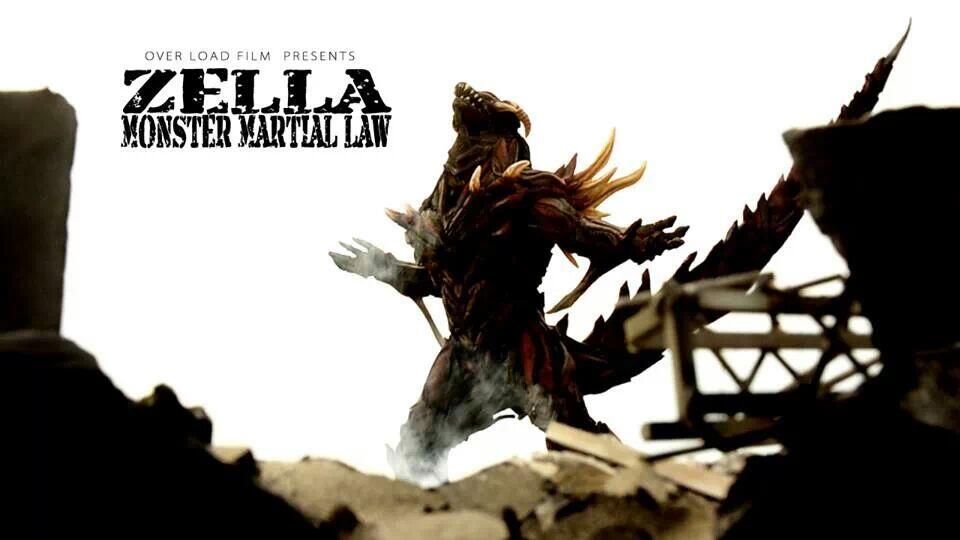 It's called Zella: Monster Martial Law and features three kaiju — the Good, the Bad and the … Cyborg. The monster effects are being done via suitmation and miniature sets.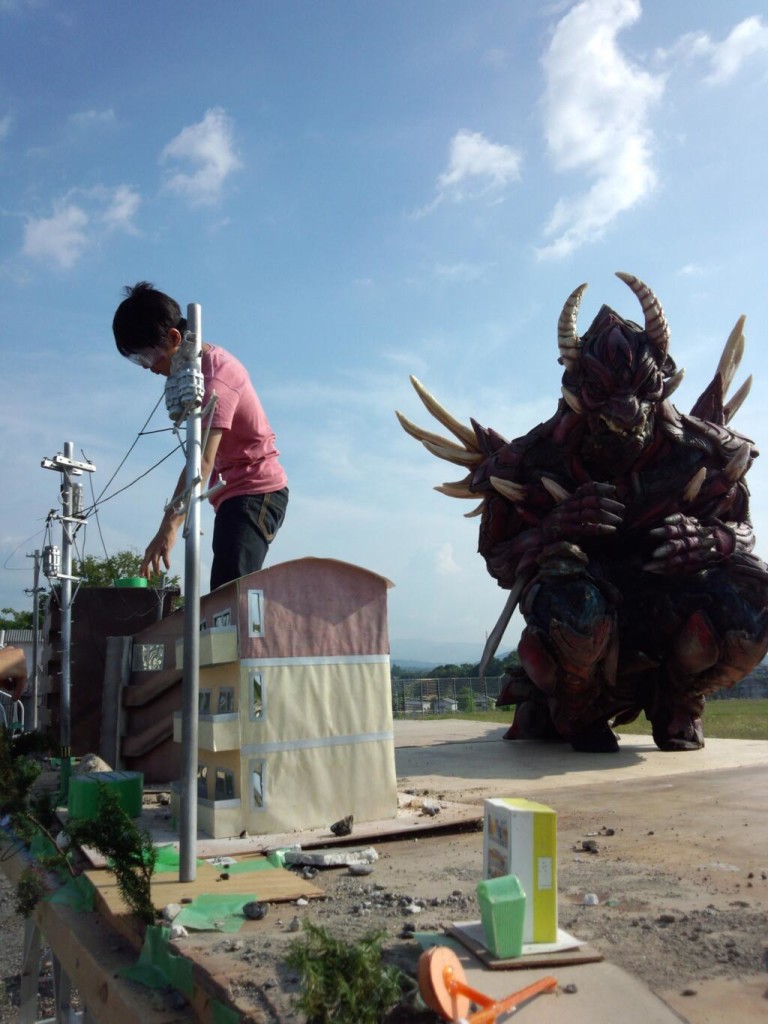 There's no denying that the creation of SFX via digital means (whether in conjunction with more traditional techniques or not) has revolutionized the cinematic depiction of giant monsters, taking them to a new level of acceptance. However, we tend to forget that no matter how realistic they look, they are nonetheless unreal and hence dependent on the viewer's willingness to accept the inherent artifice involved in their creation. All fiction, in fact, is artifice. It's just that CGI is currently favoured by the cultural zeitgeist and hence more easily accepted by audiences. Yet we readily accept the fictional "reality" of such stylised characters as Homer Simpson and family. So why not old-style monster suits?
I love what CGI has to offer. Once it (as a FX technique) worked its way through its more primitive stages, it certainly allowed filmmakers to delve into cinematic worlds that were previously a lot harder to create successfully. Is it a coincidence that superhero movies are currently both prolific and box-office gold? I think not. Yet at the same time it's good to see that older monster-creating techniques have not been totally abandoned. Stop-motion animation and suitmation/model-work are still being used, and both have an attraction of their own. This is especially relevant in the world of the kaiju.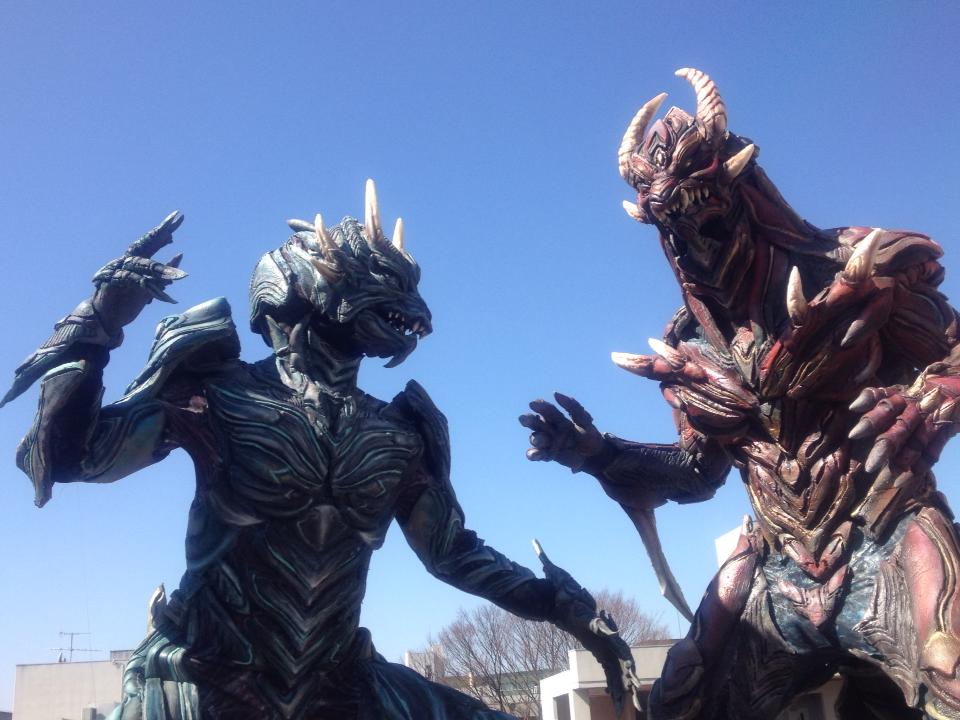 Giant monsters (known as kaiju or daikaiju in Japan) weren't invented by the Japanese film industry. But in their most extreme form — and within certain almost ritualistic contexts — they are most readily identified by such Japanese creations as Gojira (Godzilla), Gamera, and all their often bizarre opponents and allies. The tradition reaches a pinnacle of monstrous weirdness in the unending line of creatures that populate such franchises as Ultraman and other lesser-known tokusatsu TV series. Generally speaking, the giant creatures in these Japanese films and TV series are filmed using miniature sets and complex (or cheapjack, depending on the budget) monster suits (with added CGI enhancement in more recent times). Nevertheless, it was with Guillermo del Toro's epic kaiju vs giant robot film Pacific Rim (2013) that full-on CGI came into its own within the genre outside of Japan, despite the many Western CGI giants that cameoed beforehand in films such as Men in Black, Hellboy, Skyline, the Lord of the Rings trilogy and Clash of the Titans, and headlined in the 1998 US Godzilla remake and in Cloverfield (2008) — not to mention all the giant snakes, dragons and other rampaging giants that created low-grade havoc at a B-grade level. In the pipeline, of course, is a much-anticipated second Hollywood Godzilla film, one that fans are hoping with be more artistically successful and more respectful of its origins than the last.
Yet despite Del Toro's success in kaiju creation, there's still an undercurrent of old-school enthusiasm, no longer within the bigger studios perhaps, but readily adopted by the indies — buoyed as they tend to be by cinema geeks. Through them, suitmation and miniature city destruction, Godzilla-style, is likely to continue.
Such a film is Zella.
An independent production made by students from Osaka University of Arts, Zella: Monster Martial Law follows the exploits of a group that comes together to deal with a demonic-looking kaiju named Zella — all done with suits, make-up FX and miniature buildings.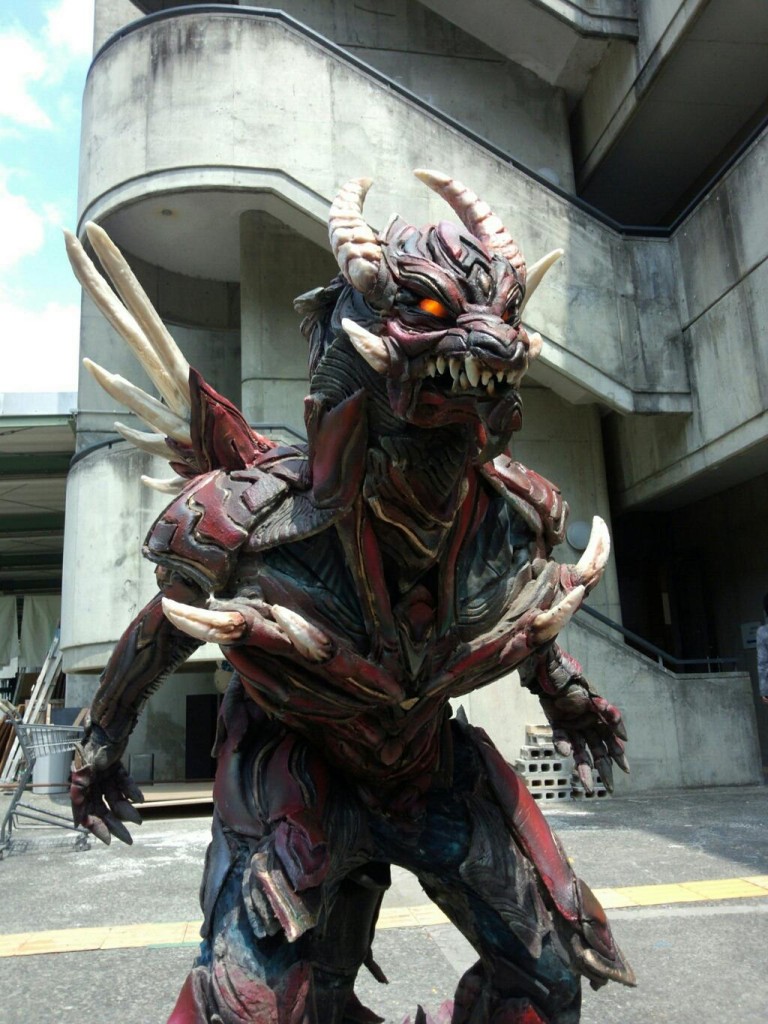 Zella's monstrous co-stars are the good-guy kaiju Zen, and a super cyborg named Isoroku.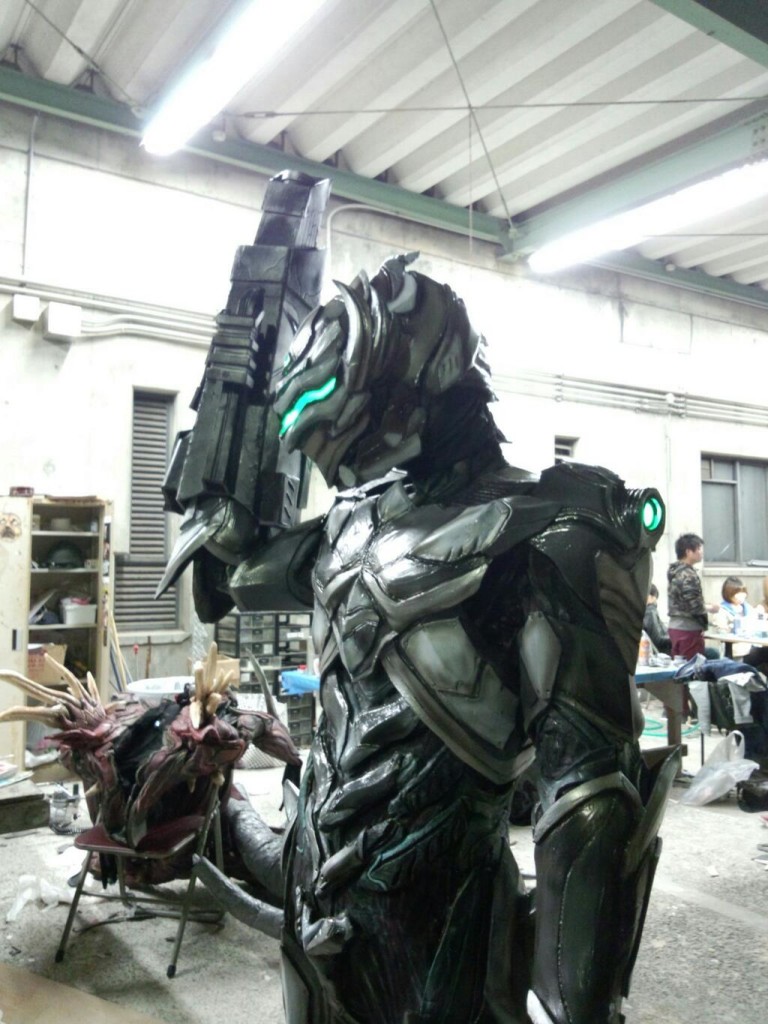 Directed by Shingo Maehata, Zella runs for a mere 41 minutes, but it promises to be jam-packed with giant monster goodness. Helping the students is Hiromasa Mitsudome, who has worked as special effect supervisor for the Ultraman TV series and began teaching at Osaka University of Arts in 2013, offering to assist the film students with his FX knowledge. So far, it's looking good. Check out the teaser below. There are no subtitles, but go with it through to the end  to view some spectacular scenes of combat and destruction:
 [youtube a62OlVJ_fcU]
As yet, there is no plan for public theatrical screening, but the film will be subtitled and released online. A possible festival run is being considered as well.
According to director Shingo Maehata, the film is inspired by Godzilla, Gamera, Ray Harryhausen, and other kaiju.
Sources: Shingo Maehata via Avery Guerra, with translations by the ever so kind Yuki Morita [who will be starring in the upcoming Godzilla from Legendary Pictures].
Cast and Crew
Cast:
Kana Yashiro
Huyuka Sakanishi
Keniti Gondo
Genki Maetsuka
Yuri Samezima
Chihiro Yasuzaki
Takeru Tamato
Yoshihiro Yonehana
Director: Shingo Maehata
Producer: Kosuke Otani
Director of Photography: Yasutomo Yoshida
Assistant Director: Nobukazu Aoki
Sound: Takuma Aoyama
Assistant Sound: Ryouhei Yamamoto
Art Director: Keita TanabeAssistant Art: Yuya Tanaka
Postscript: Behind the Scenes

[youtube ZI44hQ6Jc7s]
[youtube Z222pYYJZGI]
More Pictures: