What's scarier than a spider in your bedroom? Answer: a giant spider in your bedroom!
Christopher R. Mihm's new retro style flick, The Giant Spider, is bound to be a smash-hit with cinematic arachnophobes everywhere. Now, courtesy of Mihm, Undead Backbrain residents are getting the first glimpse of the titular star of the film.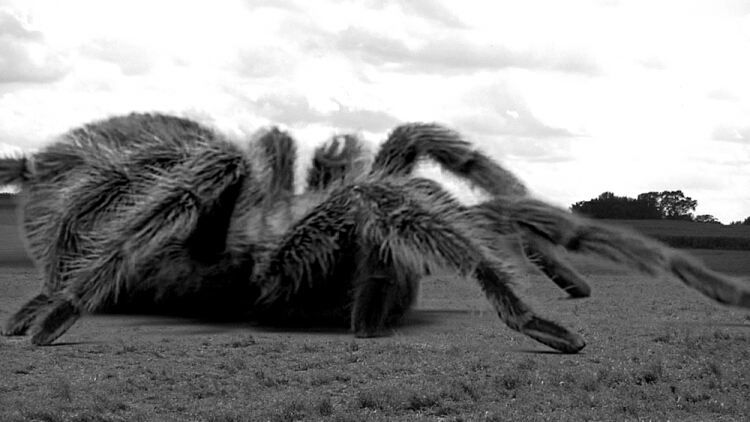 Cool, eh?
Mihm — hailed as "the king of 'new old / good bad' movies — has an enviable history in making effective low-budget monster/sci-fi flicks that entertainingly replicate the aesthetic wonders of 1950s' genre B-movies. He writes, directs and sometimes edits them. For example, his 2011 film, Attack of the Moon Zombies, features a killer plant and zombie mutants spawned on the Moon, and was the recipient of numerous film festival awards. House of Ghosts (which is exactly what it sounds like) is his 2012 release — a atmospheric supernatural creepfest that pays tribute to the works of the master of classic horror, William Castle. Other titles are Destination: Outer Space (2010), Terror From Beneath the Earth (2009), Cave Women on Mars (2008), It Came From Another World (2007) and The Monster of Phantom Lake (2006). Endless black-and-white goodness!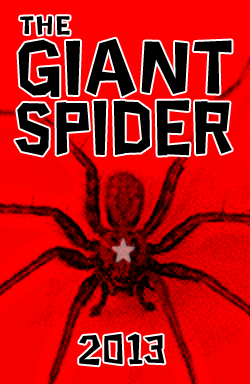 The Giant Spider is Mihm's tribute to the 'big bug', nuclear-paranoia classics of the 50s, which includes giant spider epics such as Tarantula (US-1955; dir. Jack Arnold) and The Earth vs the Spider (US-1958; dir. Bert I. Gordon ) as well as tales of those other atomic bugs The Black Scorpion (US-1957; dir. Edward Ludwig), The Deadly Mantis (US-1957; dir. Nathan Duran) and the greatest of them all, the formicidaic monsters of Them! (US-1954; dir. Gordon Douglas).
Synopsis:
When radiation left behind by atomic weapons testing creates a gigantic killer mutant arachnid, it's up to a trio of scientists, an Army general, and a newspaper reporter and his fiancée to figure out how to stop the hungry beast from devouring the entire county.
The Giant Spider is currently in production and stars Daniel R. Sjerven, Shannon McDonough (pictured below in an exclusive shot from the film), Mark Haider, Mike Cook, Jim Norgard, and Billie Jo Konze. It is scheduled to premiere in May 2013.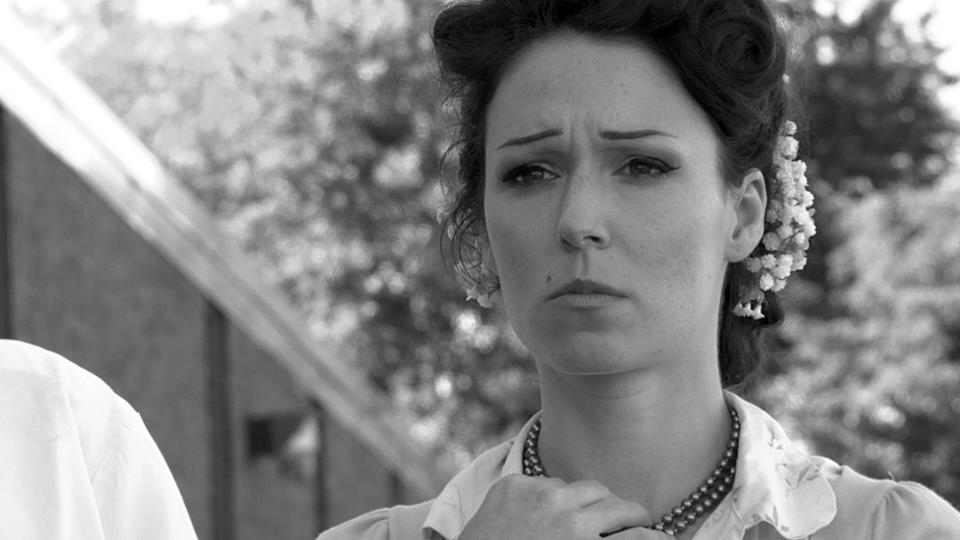 Source: Christopher R. Mihm via Kaiju Search-Robot Avery. Check out Mihm's website for information on all his delicious retro flicks.