For this, I'll definitely fly to Melbourne.
[youtube LXcuFrCMuc8]
Seems really ambitious, with its all-Australian cast and in particular its high-concept stage effects. In terms of the latter, when you've got designer Sonny Tilder (who was responsible for the "Walking with Dinosaurs" exhibition) and a team of puppeteers led by puppetry director Peter Wilson, it's definitely conceivable and exciting to imagine.
The cast (pictured below) features, from left, Richard Piper (Captain Englehorn), Adam Lyon (Carl Denham), Esther Hannaford (Ann Darrow), Queenie van de Zandt (Cassandra), and Chris Ryan (Jack Driscoll). (Photo below: James-Morgan).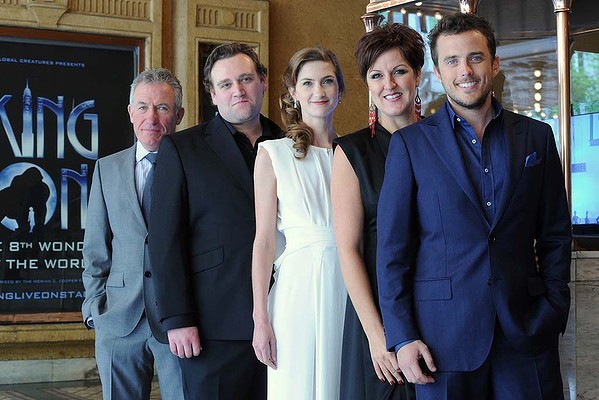 Add to that the work of composer Marius de Vries (Music Director, MOULIN ROUGE) and a musical lineup that includes Robert Del Naja (of Massive Attack), Justice, The Avalanches and Guy Garvey (of Elbow), as well as the incredible Sarah McLachlan.
Check out this Behind the Scenes video (including incredible puppetry):
[youtube W4q5Va3Dd2Q]
So cool!
Sources: Website. Fangoria. Images from The Age.com.
Addendum: Esther Hannaford singing "Full Moon Lullaby" (from King Kong: The Musical)
[youtube 96CiYOy5M2g]