Images of the cute yet bizarre kaiju (that is, monsters) inhabiting Takashi Murakami's much-anticipated fantasy Mememe no Kurage (Jellyfish Eyes) reveal an imagination that has taken its own established aesthetic and created a weird, toy-like pantheon of creatures very reminiscent, in their own way, of the famed yôkai of Japanese folklore — yôkai being ghosts, phantoms and strange apparitions, made famous in cinema by the film trilogy Yôkai daisenso [aka Big Ghost War; Spook Warfare] (Japan-1968, dir. Yoshiyuki Kuroda), Yôkai Hyaku Monogatari [aka The Hundred Monsters] (Japan-1968, dir. Kimiyoshi Yasuda) and Tôkaidô obake dôchû [aka Along With Ghosts] (Japan-1969; dir. Kimiyoshi Yasuda), as well as in the more recent "remake" The Great Yokai War [aka Yôkai daisenso] (Japan-2005; dir. Takashi Miike). To see what the yôkai looked like in traditional lore, check out the Backbrain article Yôkai Scroll Discovered.
But before we release Murakami's monsters into the Backbrain, here's the first official poster for the film: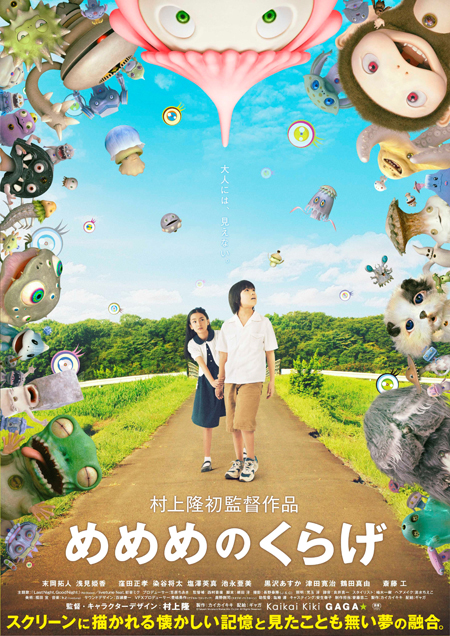 Looks almost like live-action Miyazaki, right? Well, take a look at the full trailer — and wait for the darkness to descend:
[youtube DG6sPqKlhZk]
There's a few suggestions there that these yōkai have daikaiju (that is, giant monsters) lurking inside them…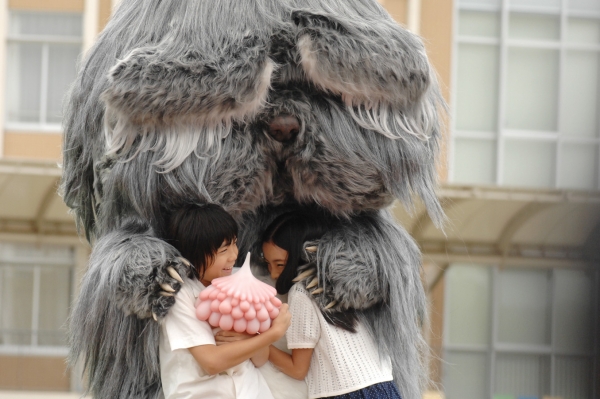 Okay, meet Murakami's kaiju:
Source: via Avery Guerra. Image source. Written by Robert Hood
Addendum: We stumbled upon a few more images from the film. One is the cute picture of the two kids being hugged by a big, furry dog-thing, that appears just above the gallery of kaiju. Here's two more. They were all taken by Taka Koike:
Source: Blum and Poe
Addendum 2: The international premiere of Jellyfish Eyes takes place on 8 April 2013 at LACMA (Los Angeles County Museum of Art). It is presented by Film Independent.