Though it's no doubt everywhere on the web by now, here's some footage of the new Godzilla film as shown at San Diego Comic-Con. It was taken on someone's smart phone and is, no doubt, test stuff — definitely not finished. But be patient and you'll get more than a glimpse of the Big G.
[youtube OCg45R6c4TM]
[It didn't take long. Warner Bros. has caused the clip to be removed. However, I downloaded it before they did. Stay tuned.]
[Addendum: Meanwhile I have learned that the "clip" was actually a special audience participation "preview" created just for Comic-Con — a sequence in which YOU the audience were caught up it an evacuation, and got to see through first-person pov the Big G through the window as a bonus when he turned up to trash the place… I'm a bit relieved, because I'm not a fan of found-footage, shaky, camera-verité style films generally and I feared the new film might be taking that route. But apparently the "clip" isn't part of the actual movie.]
At least he's looking like the real Godzilla. Let the whingeing begin!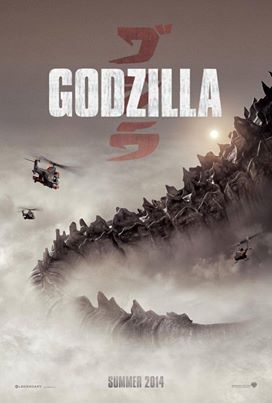 Read Dread Central's interview with Gareth Edwards about his Godzilla: click here.